Thursday, February 14, 2013
Texas Education Commissioner Michael Williams told Regents this morning that the state has made vast improvements in improving K-12 learning over the last 20 years, but "we still have a long way to go before we can say we're actually getting all of our kids ready for college."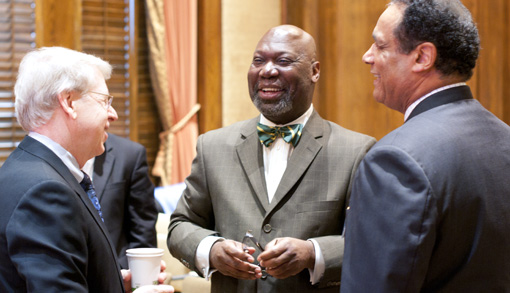 Michael Williams (center).
Williams said he welcomed more engagement from institutions of higher education as lawmakers discuss accountability, standardized testing and graduation requirements this legislative session.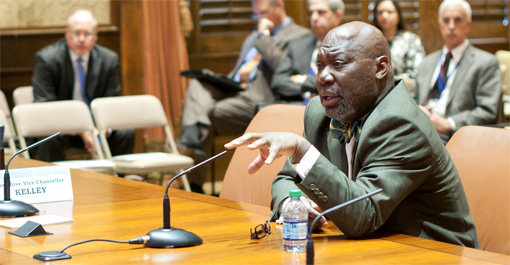 The Texas Education Agency [1] and The Higher Education Coordinating Board [2] are working to agree on college readiness standards, and Williams said he and Higher Education Commissioner Raymund Paredes are meeting regularly.
"We want to make sure we can find the right intersection between what we do," Williams said.
Regents Chairman Gene Powell [3], agreed, saying too often, K-12 and higher education are viewed in separate "silos." He said TEA and the UT System need to work together more closely, and he invited Commissioner Williams to return to the Board of Regents [4] on an annual basis.
"There's a great need for sharing and working across these lines," Powell said. "We are all about student success, and I don't think you can break students into two silos. We stand ready to help and look for more innovative ways to work together and ultimately benefit the students of Texas."