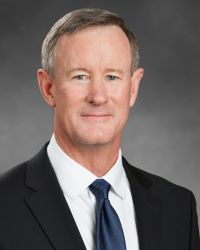 [1]Chancellor Bill McRavenBill McRaven, who recently retired as a four-star admiral after 37 years as a Navy SEAL, became Chancellor of The University of Texas System in January 2015.
McRaven's last assignment with the Navy was Commander of U.S. Special Operations Command, during which time he led a force of 69,000 men and women with an annual budget of more than $10 billion. As leader of Special Operations, McRaven was responsible for conducting counter-terrorism operations worldwide as well as building reliable military partners through programs that stressed the rule of law, universal rights, civil liberties and military professionalism.
McRaven also is a recognized national authority on U.S. foreign policy and has advised the president, secretary of defense, secretary of state, secretary of homeland security and other U.S. leaders on defense issues. He has worked extensively with leaders on Capitol Hill, and as a three- and four-star admiral, he was routinely involved in national policy decisions during both the Bush and Obama administrations.
In 2012, Foreign Policy Magazine named McRaven one of the nation's Top 10 foreign policy experts and he was later selected as one of the Top 100 Global Thinkers. He served as primary author of the President's first National Strategy for Combatting Terrorism and also drafted the National Security Presidential Directive-12 (U.S. Hostage Policy) and the counter-terrorism policy for President George W. Bush's National Security Strategy.
McRaven has advised foreign Heads of State in Afghanistan, Iraq, Jordan and Yemen on U.S. counter-terrorism policy.
Author of "Spec Ops: Case Studies in Special Operations Warfare: Theory and Practice," considered a fundamental text on special operations strategy, McRaven also served as commander of Special Operations Command Europe and was tapped to be the first director of the NATO Special Operation Forces Coordination Centre.
In 2011, McRaven was the first runner-up for Time magazine's Person of the Year and was named Texan of the Year by the Dallas Morning News. He also has received the Republic of France's Legion d'Honneur, the Federal Law Enforcement Officers Association's National Award and the National Intelligence Award.
During his military career, McRaven worked extensively with leaders on Capitol Hill to shape policy issues regarding educational initiatives for Special Operations Forces men and women, health and welfare of special operations families and operational employment of U.S. Special Operations Forces around the world.
His military legacy is not limited to strategy, warfare and securing federal support. McRaven also spearheaded the creation of the Preservation of the Force & Family initiative, calling it a "moral imperative" to take care of the mental, spiritual and physical well-being of those who serve in the Special Operations Forces, as well as their families. His wife, Georgeann, has dedicated much of her career to playing a leadership role with military families and wounded warriors.
Born in North Carolina, the son of an Air Force colonel, McRaven spent most of his childhood growing up in San Antonio where he graduated from Roosevelt High School.
McRaven graduated from The University of Texas at Austin in 1977 with a degree in journalism and received his master's degree from the Naval Postgraduate School in Monterey in 1991. In 2012, the Texas Exes honored McRaven with a Distinguished Alumnus Award.