Recent blog posts from UT Matters [1], the UT System blog, regarding the South Texas Initiative.
February 27, 2014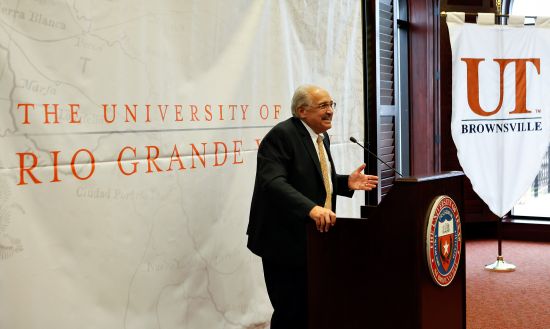 Dr. Francisco Fernandez, inaugural dean of UTRGV medical school [3], was introduced to the South Texas community during a press conference on Feb. 26.
Read more [2]
October 9, 2013
The Academic Program Working Groups for Project South Texas [5] held a kickoff meeting, Friday, Oct. 4, at The University of Texas-Pan American in Edinburg. The meeting was the first important step to combine the academic programs of UT Brownsville and UT Pan American into a new, emerging research institution that will include a school of medicine in the Rio Grande Valley.
Read more [4]
February 27, 2013
At least a 100 state House members have signed on as co-sponsors of a bill to create a new university and school of medicine in South Texas since the first committee hearing last week. Twenty state Senators have joined as co-authors or co-sponsors.
In a recent article from The Monitor [7], University of Texas at Brownsville President Juliet Garcia said it was "extraordinary" that so many House members have already agreed to co-sponsor the legislation.
Read more [6]
January 29, 2013
The Texas Legislature, which meets every two years, is back in session and that means that UT System officials will be venturing into the State Capitol on a regular basis to answer questions from lawmakers and discuss higher education priorities, challenges and opportunities.
Read more [8]
December 17, 2012
Thursday, December 6, was a historic day for The University of Texas System. The Board of Regents granted me the authority to work with the Texas Legislature to create a new university in the Rio Grande Valley.
Read more [9]