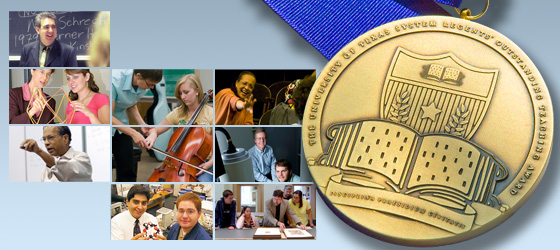 A little more than a decade ago, Charlotte Canning had an intriguing thought for teaching her students in her undergraduate theatre history class at The University of Texas at Austin.
Instead of having students study a play and offer a critique, why not have them research a time period, put themselves in the minds of the actors and directors producing the play at the time, then have them create their own account of how that play might have been assembled for the very first time?
The exercise soon became rooted in her lower-division class, and students were getting a lesson in theater history no textbook ever could match.
"The assignment gave students a sense of ownership and mastery … they were the ones teaching their fellow students about that time period. They re-created everything they could think of about the period: makeup, costumes – even the heckling that would take place in the theaters," Canning said.
Not much longer after that idea was hatched – and just a couple hundred miles to the north – Laura Kopchick, a creative writing teacher at UT Arlington, was putting together her own thoughts for getting her students more engaged in writing. Kopchick launched a writing contest for student-produced poetry, essays and short stories. To help, she enlisted the services of accomplished authors outside the university who agreed to judge the submissions for free. She also secured a corporate sponsor to offer prizes and underwrite an awards ceremony.
Her students – required to keep and review fellow students' journals – not only benefitted from the exercise of reading and critiquing student-produced works, but themselves got the opportunity to have seasoned writing professionals judging their writing for the contests.
"It's an opportunity to have a published writer share time with them, one on one, that they otherwise might not get," Kopchick said. "Some students may not ever pursue (professional) writing, but this gives them more confidence to write, regardless of what they pursue," she added.
It is innovative thought that Canning and Kopchick demonstrated that put the educators in select company this year, as the two were among 72 faculty members from nine academic institutions within The University of Texas System who are being honored with the Regents Outstanding Teaching Award.
The awards, which have been given to UT System faculty for three years, reward outstanding classroom performance by contingent, tenured-track and tenured faculty members. The awards, which range from $15,000 to $30,000, are considered to be among the highest cash prizes offered in higher education in the country.
"Exceptional university teaching has been at the core of the services our universities provide to students since our inception in 1883," said Board of Regents Chairman Gene Powell. "It is a true honor and privilege to recognize another class of great educators from across the UT System, and the Board – committed to continuing the process of seeking out, hiring and rewarding great teachers – looks forward to holding these ceremonies for many years to come."
Award nominees must demonstrate a clear commitment to teaching and a sustained ability to deliver excellence to the undergraduate learning experience. Candidates' teaching performance over three years was rigorously examined by campus and external judges.
Additionally, students, peer faculty and external reviewers considered a range of activities and criteria, including classroom expertise, quality of curriculum, innovative course development and student learning outcomes. A teaching portfolio was required to demonstrate pedagogical innovation, continuous improvement of course materials, overall teacher training experience and a statement of teaching philosophy and objectives.
The awards were established by Regents in 2008, and complement a wide range of efforts by the Board that underscore its commitment to ensuring that UT System institutions maintain intellectual exploration and discovery, educational excellence and unparalleled opportunity.
"It is our System's responsibility to provide an exceptional education to our students, and we believe this award program not only furthers that goal, but helps promote a culture of excellence that produces better teaching, better learning and, ultimately, better prepared graduates to enter our work force," said UT System Chancellor Francisco G. Cigarroa, M.D.