Can a region of South Texas, which includes some of the country's most impoverished communities, be a catalyst for economic activity in the state and the nation?
If the region in question is the Rio Grande Valley, which also happens to boast one of the country's fastest growing populations, then the answer is absolutely.

From left to right:
Micah Sagebiel
,
Program Officer, U.S. Education, Michael & Susan Dell Foundation
.
Wynn Rosser
,
Executive Director, Greater Texas Foundation.
Jamie P. Merisotis
,
President and CEO, Lumina Foundation.
Hilary Pennington
,
Director of Education, Postsecondary Success, and Special Initiatives, United States Program, The Bill & Melinda Gates Foundation.
Pablo J. Farías
,
Vice President, Economic Opportunity and Assets Program, Ford Foundation
.
That was the collective message from several state and national leaders from an array of backgrounds when they converged in Brownsville recently for a two-day summit to discuss strategies for improving the quality of life for residents and creating a more robust workforce for the region, Texas and the United States.
"What we do here is extremely important because what we do is inspire not only the parents but the young children of this region to achieve their dreams," said Francisco G. Cigarroa, M.D., chancellor of the University of Texas System. Cigarroa's remarks came on the opening day of the two-day Vista Summit at UT Brownsville. The forum, held Oct. 5-6, brought together experts in higher education, health care, industry, government, policy, economic development and philanthropy to develop ideas and collaborations for making the region a stronger player in the global marketplace.
The event, hosted by Chancellor Cigarroa, was the first in a series of summits that will explore opportunities in community development for the region, which is among the country's poorest but which also has one of its fastest-growing Hispanic populations. The inaugural summit focused on the role of higher education in developing a vibrant workforce for the region, but subsequent summits will focus on other factors, such as health care and economic development.
The overwhelming majority of speakers and panelists agreed the Rio Grande Valley was in a position to become a prime generator of economic activity because of its human capital and its institutions of higher learning. The UT System earlier this year committed $30 million to enhancing education and health care in the region, which is served by two academic and two health institutions within the UT System.
"The role of higher education is changing," said Bruce Katz, vice president of the Brookings Institution, a Washington, D.C.-based think tank. He said universities increasingly are evolving into centers that help drive economic activity in their communities, and that leaders should use that "synergy" to develop collaborations with city and state agencies, non-profit organizations, school districts and private industry to enrich the communities in which they exist.
Such an evolution is essential, Katz noted, if the United States economy as a whole is to prosper. The country's standing in the global marketplace is at risk of being diminished because of the strengthening intellectual capacities of many emerging countries, he said. "This isn't about equity anymore, this is about competitiveness," Katz said.
Another expert, Nancy Cantor, chancellor and president of Syracuse University in New York, described universities as "anchor institutions" for their roles in developing and strengthening ties among various sectors in a community. She pointed to Syracuse University's role in helping create an arts, literature and technology district in the upstate New York city of Syracuse by refurbishing an off-campus abandoned warehouse and converting it into a university building.
The corridor linking the university to the repurposed building has since been transformed from an area of urban blight into a vibrant city neighborhood, Cantor said.
"That's what an anchor institution can do," she added.
Cantor said collaboration among the different sectors – a theme echoed by numerous speakers throughout the summit – was essential for development efforts to be successful.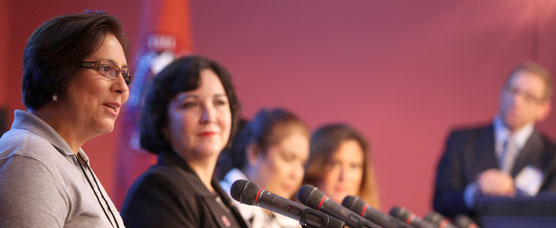 Other speakers included a panel of Rio Grande Valley mothers, each of whom described the impact a university education had on their children and how it fostered improved living conditions for their families; government leaders from school districts and city commissions, who extolled the need for more resources to jump-start economic activity; and faculty and alumni, who spoke of challenges in college accessibility, affordability and higher education success for many of the region's poor.
A panel of health care experts, led by Dr. Kenneth I. Shine, the UT System's executive vice chancellor for health affairs, discussed how university-led research efforts – on diabetes and obesity, in the case of the Rio Grande Valley – can help improve the health of the region for future generations – a prime example of how the region's medical community can collaborate with higher education to enhance living conditions for Rio Grande Valley residents.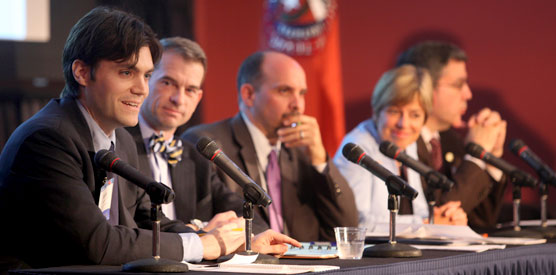 Another panel included representatives from several national philanthropic organizations, including the Ford Foundation, the Bill & Melinda Gates Foundation, the Lumina Foundation, the Greater Texas Foundation and the Michael & Susan Dell Foundation. Although their primary role in participating in the event was to observe, the representatives offered remarks on how their respective foundations may become more engaged in activities in the Rio Grande Valley.
Participants said they were energized by the summit and expressed hope that key stakeholders could maintain the momentum drawn from it.
"This is a historic day," said Robert S. Nelsen, president of UT Pan American in Edinburg. "This is the day that people from New York to Seattle got to hear about the valley in a way they had never heard about it before."