In late August, as students were arriving on UT campuses across the state to begin the fall semester, I updated the Board of Regents – and the public – on our first full year of progress in implementing the Action Plan of the Framework for Advancing Excellence throughout the UT System.
As you know, the Action Plan is focused on nine overarching goals, including improving undergraduate student access and success, enhancing efficiencies and productivity, transforming medical education and much more. We are proud of the many advancements made over the past year at all 15 UT System institutions. We will continue to use the Action Plan as our guidepost to become the best among our national peers.
Taking Stock
A new academic year is an exciting time for tens of thousands of students at our universities, medical schools, and health science centers. A new academic year is also an excellent time to review who we are by the numbers:
Nearly 216,000 students are enrolled in UT System's 15 institutions this semester.
We employ 19,000 faculty members and 68,000 staff members.
We are the largest higher education system in Texas, educating one out of every three students who attend a public four-year institution in Texas.
Last year we produced more than 30,000 undergraduate degrees and more than 15,000 graduate and professional degrees.
Chances are, if you see a doctor, nurse, or other health care professional in Texas, you're meeting a UT graduate. We produce two-thirds of all health-related degrees in the state.
Nearly $1.4 billion was allocated for financial aid awards to students at our academic institutions last year. Fifty-four percent of full-time undergraduate students received some form of need-based aid. Students who received financial aid saw an 86 percent average discount on tuition and fees at our academic institutions.
The aggregate annual research expenditures of UT System institutions are $2.54 billion, making us number one in Texas and number two in the nation, behind only the University of California System.
UT health institutions and affiliated hospitals provided patient care for 5.6 million outpatient visits and 1.3 million hospital days last year.
The UT System is number four in the nation in the creation of start-up companies.
Thanks to the strength of our Permanent University Fund and its restricted use for building construction, the UT System continues to support essential buildings on our campuses, including the Engineering Education and Research Center at UT Austin, the Arts and Technology facility at UT Dallas, the new dental building at UTHSC-Houston, and the Academic Center at UTHSC-Tyler, for example.
In the News
The UT System and our institutions have made headlines in recent months, and I want to share several of our stories with you:
Last week, attorneys for UT Austin argued before the U.S. Supreme Court that it is constitutional for the university to use race as one of many factors in its admissions process. Our attorneys maintained that UT has developed an admissions policy that meets the strict guidelines established by the court in the Grutter decision nine years ago. The court is expected to reach a decision in 2013.
At a news conference in September, President Ron DePinho at UT MD Anderson Cancer Center announced an ambitious initiative to dramatically reduce the death rates of certain cancers, including leukemia, lung cancer, melanoma, prostate cancer, ovarian cancer, and breast cancer. The $3 billion initiative, which will require significant philanthropic support, is called the Moon Shots Program, and it will bring together teams of researchers and clinicians to achieve measurable success in reducing cancers that annually account for nearly 750,000 cases and more than 260,000 deaths.
In September, our Regents authorized UT Health Science Center-San Antonio to partner with Nashville-based Vanguard Health Systems to bring a new state-of-the-art children's hospital to San Antonio. The Children's Hospital of Philadelphia, one of the nation's top-ranked children's hospitals, will join Vanguard in the administration of the San Antonio facility. This will strengthen world-class pediatric care in San Antonio and South Texas and will provide students and medical residents with outstanding educational and research experiences as future pediatric health care providers working in the region.
Last week, the Board of Regents approved UT System's partnership with three of the nation's most prestigious universities – MIT, Harvard, and the University of California at Berkeley – in an online initiative called edX, which will enrich the educational experiences of our students, help them graduate on time, and lower the cost curve of a college education. We will use the edX platform already in place to improve the way our courses are delivered at UT institutions, offering a variety of technology-enhanced instruction. EdX will provide students with a wealth of innovative resources, including interactive laboratories, virtual reality environments, and access to online tutors and tutorials. Students will be able to participate in online forums, network with instructors and fellow students, and take part in collaborative projects. In short, edX will help us envision a new model for public higher education in the 21st century.
I made the announcement at a news conference that included supportive remarks from BOR Chairman Gene Powell; Steven Mintz, executive director of our new Institute for Transformative Learning; edX president Anant Agarwal, and four UT System presidents – Bill Powers (UT Austin), David Daniel (UT Dallas), Juliet Garcia (UT Brownsville), and David Callender (UT Medical Branch in Galveston).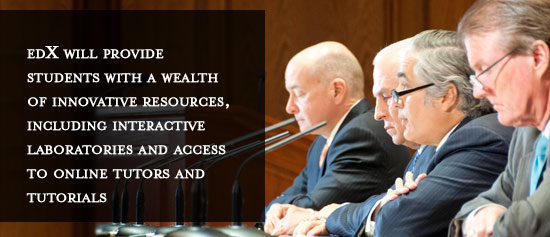 This morning, the Board of Regents named Giuseppe N. Colasurdo, M.D., president of The University of Texas Health Science Center at Houston effective today. Dr. Colasurdo has served as the interim president of UTHSC–Houston since former president Larry Kaiser, M.D., stepped down last year. An internationally known researcher and pediatrician, Dr. Colasurdo joined the faculty of the UTHSC-Houston Medical School in 1995 and was named chair of the Division of Pediatrics in 2005.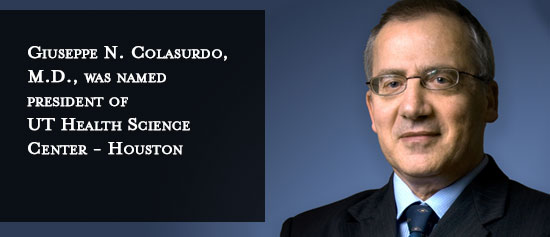 A national search is under way to succeed President James Spaniolo at UT Arlington. Over his eight-year tenure as an exceptional president, he made significant strides in positioning UT Arlington as one of the state's emerging research universities and transforming the campus to a beautiful, highly-integrated, residential setting.


In September I had the privilege of welcoming the incoming chair of our Chancellor's Council Executive Committee, Alan Dreeben of San Antonio. I also hosted an orientation for the 2012 new member class and introduced them before a record crowd of more than 200 attendees as the Chancellor's Council Executive Committee gathered in Memphis for its business meeting before traveling to Oxford, Mississippi, to cheer the Longhorns on to a victory over the Ole Miss Rebels.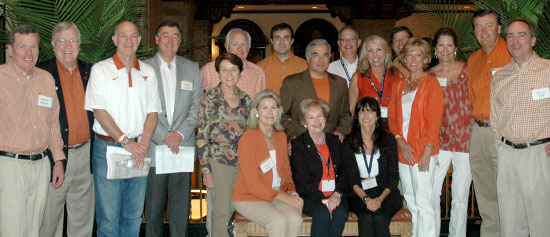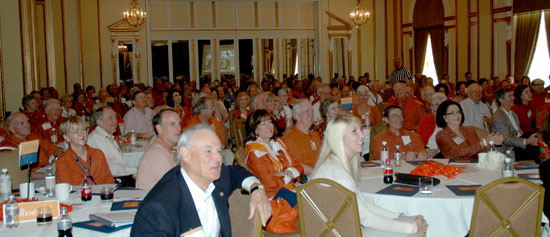 I remain profoundly grateful to the Chancellor's Council Executive Committee and broader Chancellor's Council for their exceptional support of my initiatives and generosity directly to UT institutions. They are essential leaders in making the UT System the strongest it has ever been.
Coming Up
On November 28, I will travel to The University of Texas at Pan Am in Edinburg to participate in the Vista Summit on Health. It is the third summit hosted by my office over the past year to transform higher education and health in South Texas and the Rio Grande Valley. We are bringing together a number of medical professionals, educators, teachers, students, parents, business leaders, and elected officials to discuss "What can I do to make a healthier Rio Grande Valley?"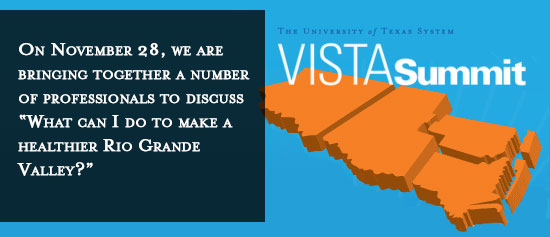 We continue to move forward in creating two new medical schools for the people of Texas, one in Austin and one in South Texas/Lower Rio Grande Valley. The Regional Academic Health Center that is part of UT Health Science Center-San Antonio will provide the foundation for the South Texas medical school, which will ultimately transition to a free-standing, comprehensive, research-intensive school of medicine. We plan for the first cohort of students to matriculate into a dedicated South Texas admissions track at UTHSC-San Antonio in 2014, to obtain their clinical education in South Texas, and then to graduate in South Texas in 2018.
This is a very exciting time for the presidents, my staff and me at UT System. We will continue to propel our universities and health institutions to be best of class in education, research, health care and service. This is an aspiration that Texans expect and deserve.
With respect and gratitude,
Francisco G. Cigarroa, M.D.