Kevin Powers, a 2012 graduate of The University of Texas at Austin's Michener Center for Writers , has written one of the best books of 2012, according to  The New York Times  and  The Guardian . Powers' debut novel, "The Yellow Birds," is about the connected but diverging fates of two young soldiers in the Iraq War.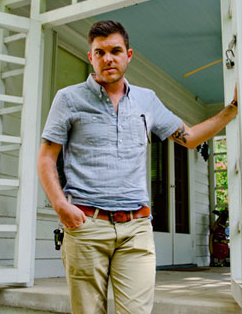 Kevin Powers. (Photo by Marsha Miller)
A veteran of the Iraq War, Powers returned to school — first to Virginia Commonwealth University and then to UT Austin's Michener Center for Writers — after completing his military service. 
Michener Center Director James Magnuson read swatches of Powers' novel in a fiction workshop during Powers' first year in the program. "The battle scenes were so intense and poetic. I knew there was something really special going on," he said in a May 2012 article about Powers in KNOW .
It's really quite incredible," Powers said in an interview  with The Guardian . "I think back to the long hours I spent writing this book by myself, wondering if anybody would read it or have any interest in it. So to have this kind of affirmation is really incredible."
Powers has received a lucrative book deal with Little, Brown and Company for "The Yellow Birds."
"I hope that when people read it, they will feel that they've had an experience that they might not have otherwise," Powers said. "The stories of the men and women who fight our wars are often — I believe — seen in our culture as incomprehensible, that if you haven't been there you can't understand. I don't know if I agree with that notion."
Source: " A poet borne from war ," by Samantha Youngblood, UT Austin, Know; " Michener grad's debut among year's best ," UT Austin, Know .