Scientists at The University of Texas at Arlington have teamed with colleagues at the University of North Texas Health Science Center, the Dallas Autism Treatment Center, Texas Instruments, and Hanson Robotics in Plano to create lifelike robots to diagnose and treat children suffering from autism spectrum disorders.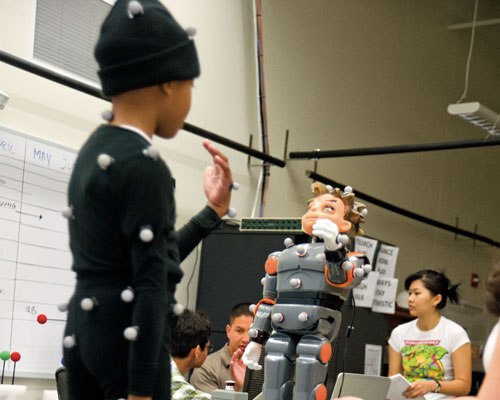 (Photo: UT Arlington)
"It's more than just seeing how autistic children react when interacting with the robot," says electrical engineering Associate Professor Dan Popa, principal investigator of the project. "Eventually, we want to customize the robot to better fit individual needs of children with autism."
Carolyn Garver, director of the Dallas Autism Treatment Center, says the earlier the disorder is identified, the sooner it can be treated.
"Children with autism are intrigued by the robot. Robots are nonjudgmental. Sometimes autistic children just shut down with human interaction," says Garver, who notes that one in every 88 children will have an autism spectrum disorder.
She believes the best possible outcome of the research would be to identify biomarkers though a child's movement to aid in diagnoses.
"There really are no biological methods of determining autism. Right now we just observe. If we can document that a certain eye gaze or motor movement means some level of autism, this could help in developing ways to treat it early on."
Autism is typically diagnosed based on deficiencies in social interaction and speech problems. But with infants or toddlers, an emphasis on motion could aid early detection.
"In the first two years of life, language is a small part of a person," Nicoleta Bugnariu, an associate professor at the UNT Health Science Center says. "Children move first, then speech comes. We can't wait until they use speech. We need to determine sooner who has autism."
Source: "Programmed to treat autism," Inquiry, The University of Texas at Arlington.