The Texas Legislature, which meets every two years, is back in session and that means that UT System officials will be venturing into the State Capitol on a regular basis to answer questions from lawmakers and discuss higher education priorities, challenges and opportunities.
The Senate Finance Committee met yesterday and heard from Chancellor Francisco Cigarroa, M.D., and UT institution presidents, as well as the chancellor and university presidents from the Texas A&M System. Senate Finance stayed on the topic of higher ed when the committee met today, listening to testimony from Ken Shine, M.D., UT System's executive vice chancellor for health affairs, and presidents from UT health institutions.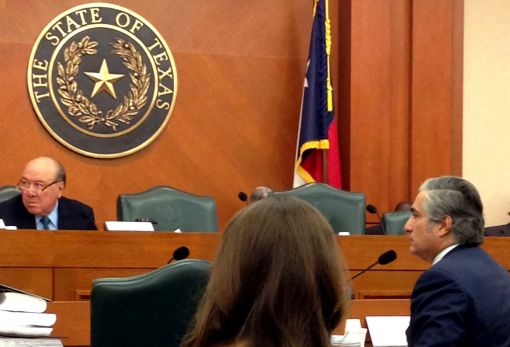 Chancellor Cigarroa took the opportunity to share UT System's overall funding priorities including formula funding, a new university with a medical school in South Texas, tuition revenue bonds for capital projects, financial aid for students and funding for graduate medical education.
"We are keenly aware of the sacrifices made by the students, their families and the citizens of this state in funding our great higher education system," Chancellor Cigarroa told the committee. "While there is a great return on that investment, we take very seriously our stewardship responsibilities and work every day to ensure each dollar, public and private, is used wisely."
You can watch the Chancellor's testimony and his response to questions from the senators on the Senate website. His testimony begins at 1 hour, 24 minutes and 15 seconds (1:24:15) in the video.
Watch Dr. Shine's testimony here. Dr. Shine's testimony begins at 11 minutes and 30 seconds in the video (11:30.)
You will need RealPlayer to watch the video links. RealPlayer "Basic" is a
free download available from RealNetwork's web site