A group of UT Dallas freshmen are participating in one of The University of Texas System's Transformation in Medical Education (TIME) pilot programs that links medical schools with four-year colleges to reduce the financial burden for students seeking a medical degree.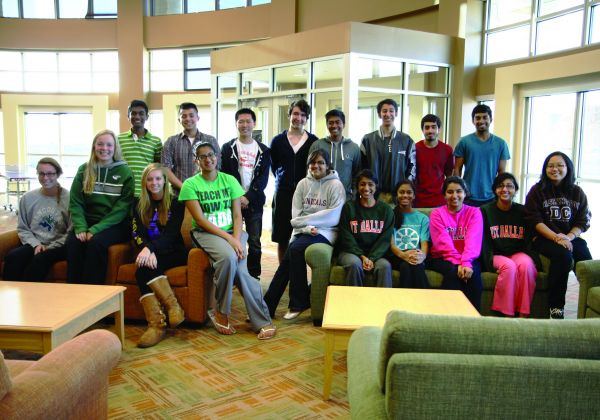 Shown are 18 of the 21 freshmen who are in the UT PACT pilot program (image: UT Dallas).
The UT Partnership in Advancing Clinical Transition (UT PACT) is a collaboration between UT Dallas and UT Southwestern Medical School to provide both a baccalaureate and a medical degree in seven years, offering a potential alternative for students who are otherwise likely to face a mountain of debt — the national average is $167,000 — upon earning a medical degree.
In a recent statement, UT Dallas President David Daniel emphasized that the UT PACT is not just about producing new physicians faster. "It's about creating better doctors, better-prepared health care providers, better professionals and better performers."
This past fall, 21 UT Dallas freshmen formed the inaugural class for the UT PACT program, which includes a curriculum in medical ethics, culture and medicine, bioengineering, enhanced communication skills and public health. The summer after their freshman year, students will begin instruction with medical school faculty and will be mentored and supported during clinical experience with patients. Read more here.
The UT System Board of Regents announced the TIME initiative in August 2010.