University leaders and the Rio Grande Valley delegation of legislators celebrated the key first step to making a South Texas university a reality: filing both the House and Senate bills that will establish the UT System's newest institution.
"The vision is right," UT System Chancellor Francisco Cigarroa said as dozens of cameras clicked at a joint news conference at the Capitol Monday morning. "It's about providing the children of South Texas and the children of Texas a better opportunity to reach their full potential."
If approved, the legislation will lay the framework for a new, PUF-eligible university that includes the University of Texas at Brownsville, the University of Texas-Pan American and the future South Texas School of Medicine. The result would be a single institution that spans the entire Rio Grande Valley, with a presence in each of the major metropolitan areas of Brownsville, Edinburg, Harlingen and McAllen.
"(This) is the most important piece of legislation I've worked on in my now 29-year career in the House," said State Rep. Rene Oliveira, one of the authors of the legislation. "This is something we have really dreamed about. It's our turn. It's our time, and we can make this happen."
The university would become one of the largest Hispanic-serving institutions in the nation and will address a critical need for a medical school in South Texas.
"This is a historic day for the Rio Grande Valley and all of Texas," Sen. Eddie Lucio, Jr., said.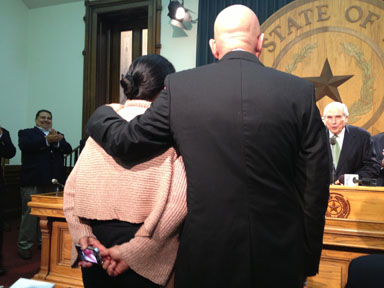 (UT Brownsville President Juliet Garcia with UT Pan American President Robert Nelsen.)
While legislators and UT leaders -- including UT Brownsville President Juliet Garcia and UT Pan American President Robert Nelsen -- celebrated a day that was 10 years in the making, they also acknowledged the tough road ahead.
"Today the work starts," State Rep. Ryan Guillen said. "We've got some challenges ahead, but I know we're up for it."