Two University of Texas at Austin professors were awarded the National Medal of Science by President Obama during a Feb. 1 ceremony at the White House. Allen J. Bard, Ph.D., director of the Center for Electrochemistry, and John Goodenough, Ph.D., P.E., professor of mechanical engineering and materials science, were among 12 distinguished researchers who received the highest honor bestowed by the U.S. government upon scientists and engineers.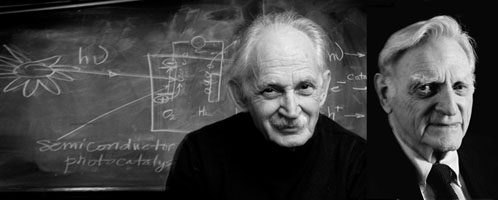 From left: Allen J. Bard and John B. Goodenough. (UT Austin photo/Marsha Miller.)
Bard was recognized for his contributions in electrochemistry, including electroluminescence, semiconductor photoelectrochemistry, electroanalytical chemistry and the invention of the scanning electrochemical microscope. He joined the UT Austin faculty in 1958 and has served as the Hackerman-Welch Regents Chair in Chemistry since 1985. His publications include three books, more than 800 peer-reviewed research papers and 75 book chapters. Bard has received more than 23 patents and has served as editor-in-chief of the Journal of the American Chemical Society for nearly two decades.
Goodenough was recognized for groundbreaking cathode research that led to the first commercial lithium ion battery, which has since revolutionized consumer electronics with technical applications for portable and stationary power. He joined the UT Austin faculty in 1986 and serves as the Virginia H. Cockrell Centennial Chair in Engineering. Goodenough is the recipient of the 2009 Enrico Fermi Award presented on behalf of the White House, and the 2001 Japan Prize, the country's equivalent to the Nobel Prize. In addition to developing the Li-ion rechargeable battery, Goodenough is known for developing the Goodenough-Kanamori rules for determining the sign of the magnetic superexchange in materials.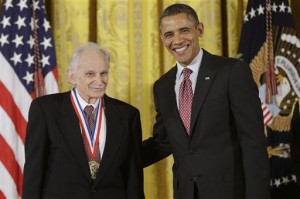 Professor Allen Bard with President Obama. (AP Photo/Charles Dharapak)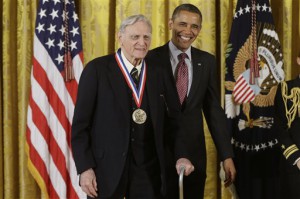 Professor John B. Goodenough with President Obama. (AP Photo/Charles Dharapak)
Administered for the White House by the National Science Foundation, the National Medal of Science was established by the 86th Congress in 1959 as a presidential award to be given to individuals "deserving of special recognition by reason of their outstanding contributions to knowledge in the physical, biological, mathematical or engineering sciences." In 1980 Congress expanded this recognition to include the social and behavioral sciences.

Read more at scienceblog.com.