On Wednesday, The UT System Board of Regents' Academic Affairs Committee endorsed a request by UT Austin to seek approval from the U.S. Army to name UT Austin's Army Reserve Officers' Training Corps (ROTC) program as the "Russell A. Steindam Army ROTC."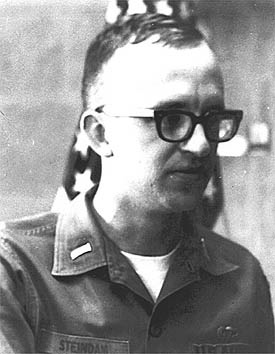 First Lieutenant Russell A. Steindam (Image: UT Austin)
The program currently serves 135 cadets and has more than 1,900 alumni. It will soon be housed in the new Liberal Arts Building on the former site of Russell A. Steindam Hall.
"We respectfully request the Committee to approve the recommendation," UT Austin President Bill Powers said. "We have been looking for some way to honor Lt. Steindam since Steindam Hall was decommissioned."
The original Steindam Hall was dedicated in 1972 to honor First Lieutenant Steindam's service and sacrifice in the Vietnam War. Lt. Steindam was a UT Army ROTC graduate who was posthumously awarded the Medal of Honor in 1970 for giving "the last full measure of devotion" in service of the nation in Vietnam.
The proposed naming is consistent with the Regents' Rules and Regulations, Rule 80307, relating to the honorific naming of facilities and programs. Upon approval by the U.S. Army, the ROTC program will be named for Lt. Steindam.