Four University of Texas at San Antonio engineering students and one faculty mentor recently spent 12 days in Peru, as part of UTSA's chapter of Engineers without Borders, to facilitate community health and rebuilding efforts in the earthquake-stricken town Viña Vieja.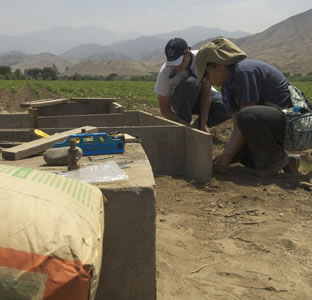 (photo by Eleazar Hernandez/UTSA)
This was the third trip for the UTSA chapter members who are working on an initial project to design and build a comprehensive water-delivery system to support the daily needs of the town's 500 residents. In August, the group will make another trip to finish building and testing the new system as well as to teach the local residents to maintain it themselves.
"It was a challenge to prepare for this trip while also taking a full course load of intense engineering classes, studying and working," said UTSA civil engineering senior Jessica George, in an UTSA Today article. "But, meeting the people in Viña Vieja and seeing how what we're doing is actually making a difference in that community made it all worth it."