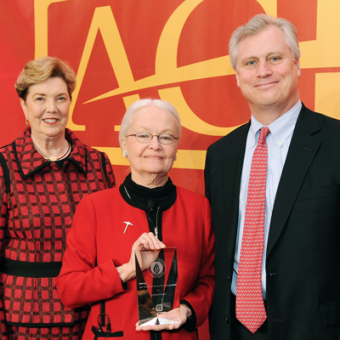 UTEP President Diana Natalicio (center). (Photo: Tim Trumble/American Council on Education)
For remarkable leadership and dedication in higher education, University of Texas at El Paso President Diana Natalicio received the 2013 Theodore M. Hesburgh Award for Leadership Excellence in Washington, D.C., on Monday during the American Council on Education's annual meeting. 
The Teachers Insurance and Annuity Association-College Retirement Equities Fund (TIAA-CREF) gave President Natalicio the Hesburgh Award for efforts that include boosting the number of students from low-income backgrounds who receive a degree.
"I am deeply honored to be a recipient of the Hesburgh Award and enourmously grateful for this recognition of the role that I've been privileged to play over the past 25 years in raising educational aspirations and attainment along this United States-Mexico border," said Natalicio in a statement to the El Paso Times.
Over the last decade, the number of undergraduate degrees UTEP awarded increased by 85 percent, with Hispanics receiving more than 80 percent of those degrees, according to data provided by the university.
In the 25 years Natalicio has been UTEP's president, enrollment has increased from 14,971 to more than 22,700 students, and the number of doctoral-degree programs has grown to 19 from one.
In addition to receiving the prestigious Hesburgh Award, President Natalicio assumed the chair of the Board of Directors of the American Council on Education, the major coordinating body for all the nation's higher education institutions.