In 2012, The University of Texas at El Paso's College of Engineering graduated 10 doctoral, 102 master's and 230 undergraduate Hispanic-American engineering students, making UTEP the top producer of graduate-level Hispanic engineers in the nation and second in the nation for undergraduate Hispanic engineers.
Image courtesy: UTEP College of Engineering
The rankings, by the American Association of Engineering Societies' Engineering Workforce Commission, are used to monitor engineering trends in higher education and the workforce and are a resource for employers, recruiters and engineering schools.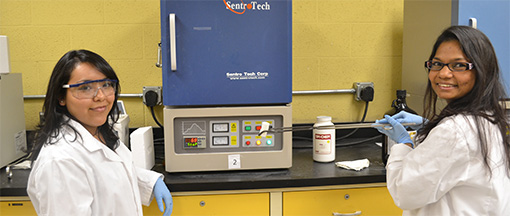 Image courtesy: UTEP College of Engineering
"UTEP has long been among the leaders in producing Hispanic engineers wtih B.S. degrees. Now, as we are moving ever closer to Tier One status, the designation as the top producer of Hispanic engineers with M.S. and Ph.D. degrees is extremely gratifying and significantly important. And considering the fact that representation of Hispanics in M.S. and Ph.D. degrees across the nation is significantly lower than representation at the B.S. level, we again are serving as a model to the country for broadening participation and diversifying the engineering workforce at all levels," said Richard Schoephoerster, dean of the College of Engineering, in a recent  El Paso Times article.