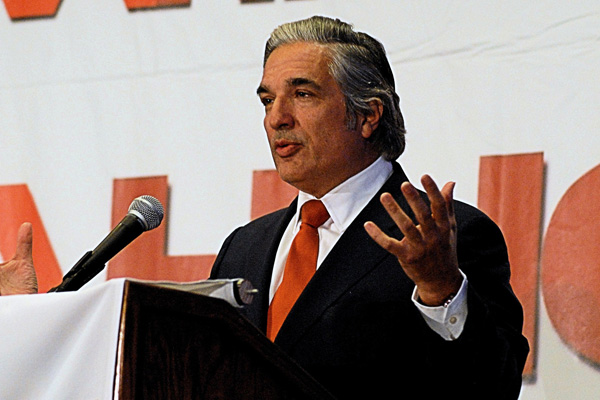 UT System Chancellor Francisco Cigarroa delivering the 2013 Tomás Rivera Lecture. (Image courtesy: Ornelas Photography)
UT System Chancellor Francisco Cigarroa, M.D., delivered the Tomás Rivera Lecture during the national conference of the American Association of Hispanics in Higher Education, March 28-30, in San Antonio. The lecture is presented every year by a national leader or distinguished scholar to honor the late Dr. Tomás Rivera—a professor, scholar, poet and former chancellor of the University of California, Riverside. 
UT San Antonio President Ricardo Romo introduced the Chancellor, describing him as "a man of vision and innovation," an individual who is "keen on implementation."
During the course of the evening, the Chancellor touched on the theme of "a dream for a better future," acknowledging Tomás Rivera's journey from migrant worker to scholar. The Chancellor then described his own grandparents' flight from the Mexican Revolution to a life in San Antonio and eventually Laredo.
He discussed the current state of education for Hispanics in Texas and beyond, along with shifting demographics that are redefining America and will eventually erase the line between minority and majority groups.
"You and I are educators, and we believe that education is the key to a stronger, more prosperous and more meaningful life. But we are living in a new era and facing profound changes that are impacting our search for a better future," he said.
"It is clear to me that we must nurture the talents and aspirations of the young Hispanics who will soon become our leaders in governance, public service, education, health care and numerous other fields — not only in Texas, but across the nation."
Other topics that were covered included the Chancellor's initiative "A Framework for Advancing Excellence throughout The University of Texas System" and the South Texas Initiative, which is a transformational plan to create a new university in South Texas. The plan would result in a single institution that spans the entire Rio Grande Valley and would also be home to a school of medicine.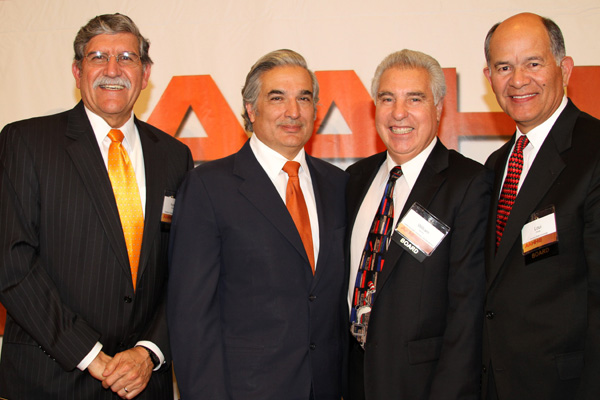 From left: UT San Antonio President Ricardo Romo; UT System Chancellor Francisco Cigarroa; California State University San Bernardino V.P. Emeritus of University Advancement William Aguilar; and AAHHE President Loui Olivas, professor emeritus, W.P. Carey School of Business, Arizona State University. (Image courtesy: Ornelas Photography)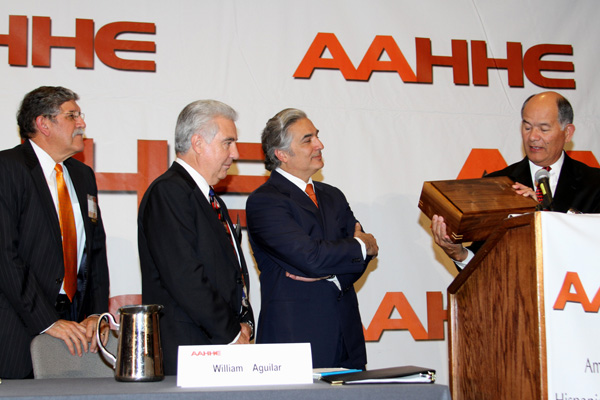 From Left: Romo, Aguilar, Cigarroa, and Olivas during the presentation of a handcrafted wooden box to commemorate the Chancellor's lecture. (Image courtesy: Ornelas Photography)