The University of Texas at Dallas chess team finished second place for the third year in a row at the Final Four of College Chess in Washington, D.C., April 6-7.
Cristian Chirila, Valentin Yotov, Julio Sadorra, Salvijus Bercys, Milos Pavlovic and Conrad Holt competed against three teams from The University of Maryland, Baltimore County, The University of Illinois and Webster University, which took first place.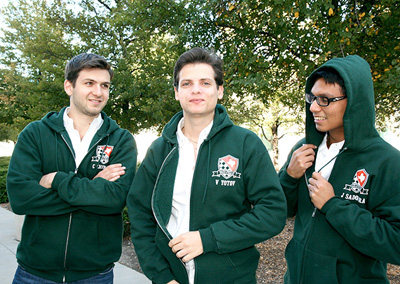 Grandmasters Cristian Chirila, Valentin Yotov and Julio Sadorra were among the six UT Dallas chess players. (Image courtesy: UT Dallas)
"We played our best, but fell short. All in all, it was a very successful season for our players. I'm very proud of the team and all the work it took to play at such a high level," said Jim Stallings, chess program director, in a UT Dallas article.
UT Dallas has competed in 13 Final Four of Chess tournaments, winning or tying for first place five times. UT Dallas last won the Final Four of Chess in 2008.
Read more at www.utdallas.edu.
Watch the news coverage at http://www.cbsnews.com/video/watch/?id=50144321n