Chris Slaughter, a University of Texas at Austin graduate research assistant and student entrepreneur, has had quite a week.
First, he made a presentation to the UT System Board of Regents about his company, Lynx Laboratories, which is supported by the Longhorn Startup Program at UT Austin.
Then, Slaughter met with President Obama to talk about his company, which develops software for 3-D photography.
During his five-minute presentation, Slaughter demonstrated his company's camera and discussed the Longhorn Startup Camp, which fosters interdisciplinary innovation.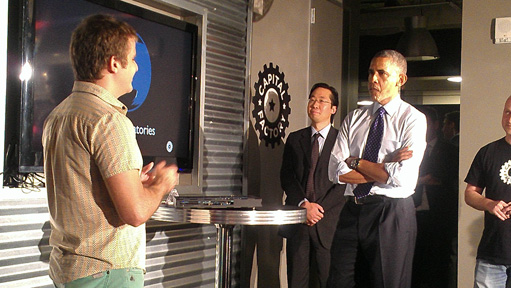 Lynx has received several prestigious awards, including first place in Idea2Product Global, a global technology competition. The company also was named a 2012 Dell Innovator and is funded by support from the National Science Foundation Small Business Innovation Research program.
President Obama came to Austin to kick off his Middle Class Jobs & Opportunity Tours.