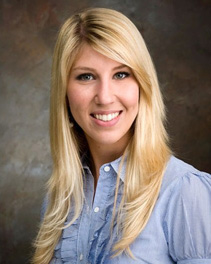 Ashley M. Purgason is a graduate of The University of Texas at Arlington and is currently a doctoral student at UTMB Galveston . She conducts research at both UTMB and NASA on the dangers of the space radiation environment and its effect on the health of astronauts in long duration missions beyond low Earth orbit. Purgason has served as a Student Regent since June 2012. As her service on the UT System Board of Regents comes to a close at the end of May, she graciously agreed to answer some questions about her experience this past year. 
UT: Why/how did you become interested in serving as a Student Regent?
Purgason: Once I arrived at graduate school at UTMB, I quickly realized that I should be doing more to serve others and to broaden my skill set. Giving back to UTMB through Student Government was the most obvious way for me to make that happen, and it turned out I loved learning about and adding to higher education operations. It's thrilling to deliberate with such selfless and intelligent colleagues on issues that affect so many. This led me to want to learn more and continue to advance UT in important and impactful ways, and so I applied for the Student Regent position. I still feel that being afforded this opportunity is one of the greatest honors of my life.
UT: Are there any particular issues that came up during the past year that you would like to share some comments on?
Purgason:  Our UT presidents will tell you that universities are becoming a consumer-based model. That means that in typical UT fashion we must be ahead of the curve in giving our students the most innovative, educational curriculum that is strewn with diverse experiences. The economy and the job landscape have changed, and students must stand apart to get a job. They must be broadly disciplined in the sense that they are knowledgeable of different areas, yet they must be narrow in the sense that they've become one of a few with a unique pair of skill sets that makes them attractive to employers.The interdisciplinary movement in research is already here. That same movement is coming or is here already with regard to employers.
My challenge to the Board and the System is this—
How can we get extremely creative in infusing into education a more diverse curriculum and experiences so that students stand out with those unique pair of skills to get the job without adding to time or cost burdens? The Freshman Research Initiative at UT Austin is a great example of this infusion and so I guarantee we already have the talented faculty to design such things. The second piece of this, and I believe the two are inter-related, is a lofty goal asking how can we become a national leader in connecting our students with the jobs that are out there? That may not be required of us, but it's a wonderful initiative to consider.
UT: What did you gain from this experience, and how will you apply that to future endeavors?
Purgason: What didn't I gain is more like it! I believe the biggest thing I gained from being able to serve my peers as the Student Regent was the knowledge that I (and all of us) really can make a difference simply by putting the students first and being an excellent communicator of their needs. I will carry that knowledge with me as I move forward in the university setting. The students in the UT System are the most genuine, gifted and passionate students in the world and they are our greatest asset. I learned more than I can say on the operation and advancement of higher education, and I can easily tell you that all 15 of the UT System institutions are providing cutting-edge ideas, and I'm so proud of the accomplishments at all of them. I also learned that big, innovative thinking that provides meaningful change is as important as knowing when to stay with something that works.
UT: You received both bachelor's and master's degrees in Biology from UT Arlington. Why did you choose to attend UT Arlington?
Purgason: UT Arlington is special, and I love it there. I chose it because I wanted a school that was affordable, had strong sciences, gave me an opportunity to play collegiate basketball and was growing in the opportunities available there for me to receive a well-rounded education. It is also special to me because I grew up in the Dallas/Fort Worth area. I'm proud that UTA is the biggest public university there. I had a fantastic experience and was so grateful to the faculty who were always available. It's incredible to see where UTA is today. Everything I mentioned is still there but in even greater quantity and quality! Go Mavs!
UT: Currently you are a doctoral student at UTMB Galveston, conducting research at both UTMB and NASA on the dangers of the space radiation environment and its effect on the health of astronauts in long duration missions beyond low Earth orbit. How did you become interested in this subject and work?
Purgason: Originally I wanted to be a toxicologist, and I am trained as one through my didactic course work. That interest arose through a class I took at (you guessed it) UTA, which I was always enthralled during. Upon arrival at UTMB, I was told we had the potential to collaborate with NASA. I jumped at the chance to be a part of something so unique and began talking with scientists there whose work aligned with my background and interests. The radiation folks there were willing to take me on and with radiation being a form of toxicity, I jumped on board! I'm truly lucky to be able to work on a NASA collaboration. Being there is a reminder to always dream big. We are literally reaching for the stars and that's not only ok, it's encouraged.
UT: What are your goals/plans after obtaining your Ph.D.?
Purgason: I'd like to maintain a role in higher education and teaching at the university level. There are so many changing dynamics and problems that need solving or improving in higher education, and I'd love the chance to be a part of some positive innovations that will help out our students. Like most people, I just want the chance to wake up every day and try to make a few lives better. Being at a university means you get to stay an eternal student also, learning every single day about what's happening across the campus—sounds good to me!
UT: You have been very involved in sports, particularly basketball. How did you become interested in basketball and what was your experience like playing on the UT Arlington team?
Purgason: I was fortunate to both get involved with basketball at a very early age and have coaches that worked with me tirelessly. I've always loved sports because of the pure joy in the physical endeavor, but mostly because of the teamwork component. It's beautiful to work with the same group intensely day in and day out and see the fruits of your labor every play or every week in a game. That fulfillment is truly thrilling. I also love that basketball requires some more elegant thinking than many sports. It's a game of angles and knowing those angles and the court space is key in running a successful offense and defense. Playing at UTA certainly presented me with the challenges that all college athletes have in time management, etc., but talk about being proud to participate in something. I will so cherish the memories of getting to be a representative of the university, the city and the region in an activity that I love! And don't let me forget to say that the best part is my teammates who are still my friends today. Everything is all about people first.
UT: Any additional comments you would like to add?
Purgason: The people of The University of Texas System are the pride of the Board of Regents, and I'm so grateful to have briefly been a part of such a remarkable endeavor in trying to lead our 15 campuses. I would like to thank our Board, administration, faculty, staff and students for all that they do—much appreciation to all!