On June 4, more than a hundred key Texas leaders from education, business and research gathered at The University of Texas Southwestern Medical Center in Dallas to discuss how to revitalize the partnership among higher education, government, philanthropy and business to keep research universities strong and viable.
Speakers included former U.S. Sen. Kay Bailey Hutchison, Bank of America Chairman Chad Holliday and Texas Instruments CEO Rich Templeton.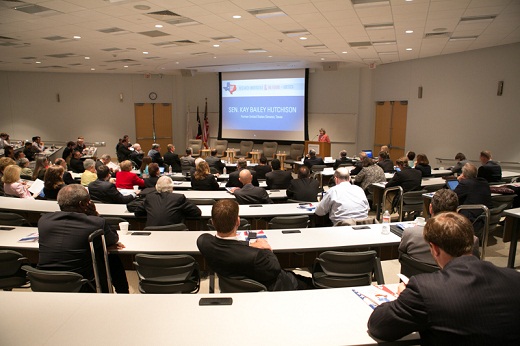 Senator Kay Bailey Hutchison presents to a packed crowd.
The meeting was the third of five that will be held across the United States to discuss 10 strategic actions recommended in Research Universities and the Future of America . The report was co-authored by UT System Chancellor Francisco Cigarroa, M.D. , and 21 others commissioned by The National Academy of Sciences in a response to the U.S. Congress, after members expressed concern about the significant pressures on the critical partnership between the government and the nation's universities.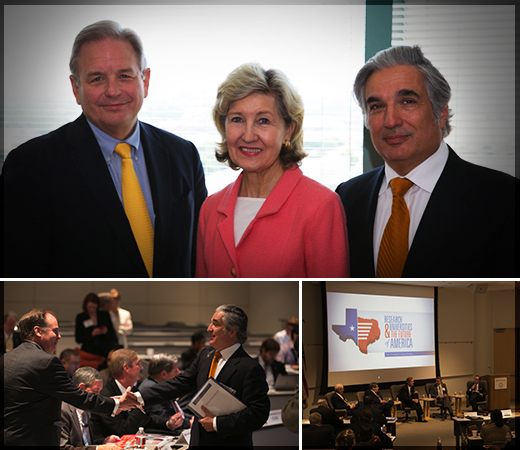 Top photo, from L: Bank of America Chairman Chad Holliday,U.S. Sen. Kay Bailey Hutchison and Chancellor Francisco Cigarroa.
The conference opened with Cigarroa, Holliday, Hutchison and Daniel K. Podolsky, M.D., president of UT Southwestern Medical Center, discussing some of the report's key findings, which include getting more financial support from state and federal governments; recruiting more women, minorities and others into math and science fields; and encouraging campuses to be more productive and cost-savvy.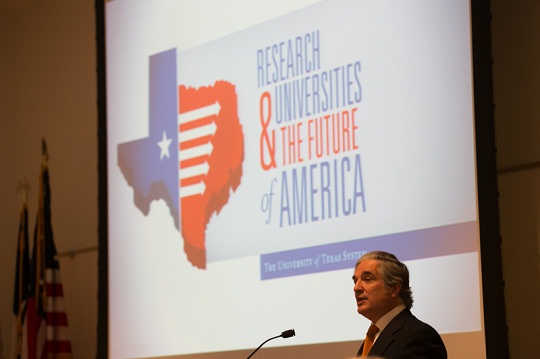 Chancellor Cigarroa addresses conference attendees.
"Our research institutions are a prime source of renewal to take on the challenges that we face as a nation in such crucial areas as the economy, energy, health care, national security and food and water resources," Cigarroa said. "We need to support and strengthen our nation's research universities for the advancement of knowledge, for the promise of new discoveries that will transform our world and for the future prosperity of America."
http://www.youtube.com/watch?v=6bcrIQ1G5-M
Visit the conference website to learn more and to read a summary of the report.