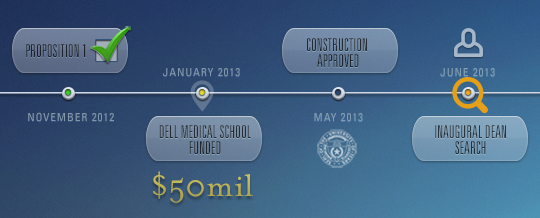 The search is on for a new dean to lead the Dell Medical School at The University of Texas at Austin. On UT Austin's wish list for the medical school's new leader are "entrepreneurial style" and "visionary leadership."
According to the job description, the dean will have an unparalleled opportunity to lead the programmatic and physical construction of a new medical school that deploys state-of-the art facilities for basic and translational research, advanced technologies and the most advanced teaching and learning methods for a contemporary curriculum. In addition, the individual will have a unique opportunity to establish a strong entrepreneurial and innovation-culture in one of the most economically dynamic regions of the country.
Review of candidates by the Dell Medical School Dean Search Committee begins in September, with plans to have the new dean assume office by early 2014.
"While there is no doubt that UT Austin will benefit from a medical school on campus, it is Texans who will receive the ultimate advantage," said UT System Chancellor Francisco Cigarroa, M.D., last November when voters in Travis County gave an emphatic endorsement for the medical school by approving Proposition 1.
UT System leaders are working aggressively and successfully with private hospital partners to increase the number of residency positions, both around the state and in Austin. If a medical student does his or her training in Texas and stays in state for their residency education, there is an 82 percent chance they will remain in Texas to practice medicine. Texas needs more doctors and we want to fulfill that need, said Cigarroa.
As part of a partnership with Seton Healthcare Family, a regional health care system, and Central Health, a public health care district, a new teaching hospital will be constructed adjacent to the Dell Medical School.
In addition to the dean search, UT Austin announced its short list of potential architects/engineers for its research and medical office buildings: The Ballinger Company, with VAI Architects and Studio 8 Architects; Page Southerland Page in association with ZGF Architects; Perkins+Will; and WHR Architects with Lake/Flato Architects.
Click on the links below to read more about important milestones related to Dell Medical School.
November 2012: Voters in Travis County give an emphatic endorsement for a medical school at UT Austin by approving Proposition 1.
January 2013: The Michael & Susan Dell Foundation announce commitment of $50 million to establish the Dell Medical School.
May 2013: Board of Regents approve $334 million construction plan for Dell Medical School.
June 2013: UT Austin begins formal search for inaugural dean and announces short list of architects/engineers for new medical school.