Taking technology commercialization to the next level was the topic for discussion when University of Texas System leaders met June 13 in Austin to review an assessment of needs at UT System institutions, including the potential establishment of a new entrepreneurial academy with the working title "StartUT."
Currently, UT System receives a U.S. patent every two days, signs a commercialization agreement every three days and starts a new company every nine days.
With several successful programs already in place, including the UT System Horizon Fund and the UT Austin Longhorn Startup program, UT System is well situated for its next move.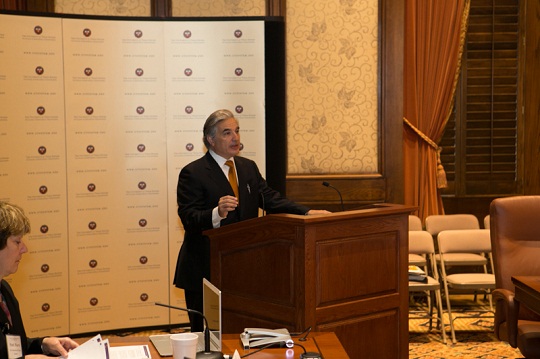 Chancellor Francisco Cigarroa, M.D. 
"As many of you know, UT Austin's motto is 'What starts here changes the world.' It's a motto that really applies to all of our institutions, and it's not just a saying – it's actually happening. And we see it happening daily through our technology commercialization initiatives," said Chancellor Francisco Cigarroa, M.D., speaking to the UT System Technology Commercialization Advisory Cabinet.
University start-ups provide high returns since they are based on high-quality research, innovative technologies and intellectual property assets. The University of Texas spun off 22 companies (21 in Texas) in 2012, and 171 are currently active. A 10-year back‐testing model completed in January 2013 showed that UT start-ups as an index provided a high return on investment to investors. 
A few highlights of the meeting included:
Ralph Thomas, vice president of Houston-based venture capital firm Fayez Sarofim, led a discussion on the "New Texas" economy. 
Tom Meredith, chairman of Austin-based Meritage Capital, discussed how small cap equity start-ups, including high-tech start-ups spun out of universities, have historically provided a high return on investment.
Jonathan Fleming, managing partner of Boston-based Oxford Biosciences, asked UT System to consider the importance of improved entrepreneurship and cross-functional interactions, such as health-academic.
Joseph Salamone, chief scientific officer of San Antonio-based Rochal Industries, highlighted the importance of strong patent protection.
Charles Tate, chairman and founding partner of Houston-based Capital Royalty, reviewed a recent UT Austin committee of business productivity and improved technology commercialization.
Ron DePinho, M.D., president of UT MD Anderson Cancer Center, discussed the need for improved cancer therapeutics.
Gregory Fenves, Ph.D., dean of UT Austin Cockrell School of Engineering, reviewed initiatives to improve entrepreneurship such as the Longhorn Startup program.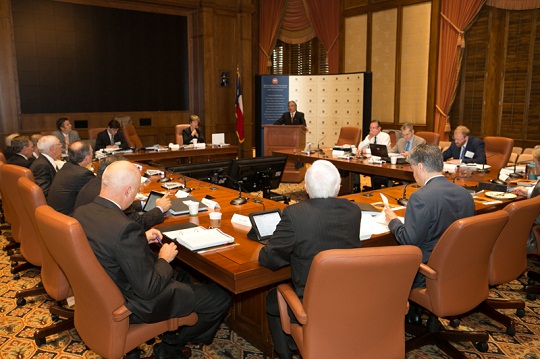 Patricia Hurn, Ph.D., UT System vice chancellor for research and innovation; Bryan Allinson, executive director of technology commercialization; Jeet Vijay, new ventures associate for technology commercialization; Wei Chen, senior business development analyst for technology commercialization; and senior attorney BethLynn Maxwell were among those at the meeting who summarized results of the recent UT institutions technology commercialization assessment; presented best practices for commercialization based on site visits to Stanford University, the University of California, Massachusetts Institute of Technology, Partners Health System and Harvard University; reviewed a recent national meeting covering academic venture funds and incubators in San Antonio attended by over 50 institutions; and discussed a proposed new entrepreneurial academy "StartUT."
StartUT will be elective to UT institutions, faculty and students; complimentary to current programs at large academic institutions; cost-efficient; and focused on the goals and mission statement of UT System, including commercialization, sustainability and health-academic collaborations. 
As proposed, StartUT features three new entrepreneurial programs:
• InnovateUT – focused on opening up greater access to proof-of-concept funding, including federal small business innovative research funding.
• AccelerateUT – a boot camp program for entrepreneurial projects with an emphasis on (but no exclusive to) cross‐institution, health‐academic collaborations including mobile health care apps, software technology, medical devices and low capital intensive projects.
• CompeteUT – a systemwide competition geared toward UT students, medical residents and trainees, which would build off the UT Horizon Fund Student Investment Competition, providing an opportunity for entrepreneurial students across UT System institutions, both academic and health, to interact with investors, advisors and mentors and seek investment funding.
"StartUT seeks to deliver on the need for improved innovation, faculty and student entrepreneurship and technology commercialization-based start-ups, supporting the 'New Texas' economy," said Allinson. "Our approach will be to leverage complementary and multi-functional strengths of UT System institutions, such as health-academic collaborations." 
In addition to technology commercialization, discussion included the need to better engage industry, supporting initiatives of the UT System Framework for Advancing Excellence.
The day concluded with next steps to move forward with establishing StartUT and to address additional needs identified in the assessment of technology commercialization efforts at UT System institutions.