The latest work in The University of Texas at Austin's Landmarks public art program made its debut Oct. 19 – Artist James Turrell's new Skyspace called "The Color Inside." The installation is located on the roof of the Student Activity Center.
The Landmarks website describes "The Color Inside" as follows:
"High above the center of the busy university campus, the Skyspace provides a quiet and airy chamber for contemplation. Turrell's Skyspace is an elliptical structure of white plaster with an oculus in the ceiling that allows light to penetrate the space. A black basalt bench surrounds the interior, providing a reclined seat from which to contemplate the sky. Custom LEDlights illuminate the interior and exterior of the Skyspace. Daily, at dawn and dusk, the lights are programmed to change in intensity and color, simultaneously altering the appearance of the sky through the oculus."
Photo credit: Florian Holzherr 
The Skyspace accommodates 25 people at a time. Free reservations will be required for the first few weeks; then the Skyspace will become available for walk-in viewing. The optimal viewing times to experience Turrell's art are at sunrise and sunset, during light sequences that last about an hour.

Q & A with Artist James Turrell. Photo credit: Sandy Carson
The Turrell Skyspace was made possible through UT Austin's Landmarks public art program. Launched in 2008, its projects are located throughout UT Austin's main campus where they are viewed by thousands of people every day.
The program draws upon private philanthropy to maintain its collection and to support public outreach and education. Its projects have been integrated into curricula across various disciplines and offer many students their first point of engagement with great works of art. Combined with a range of educational resources, Landmarks turns the university's 350-acre landscape into a campus-wide classroom for more than 70,000 faculty, staff and students.
To read more about Landmarks, visit www.landmarks.utexas.edu.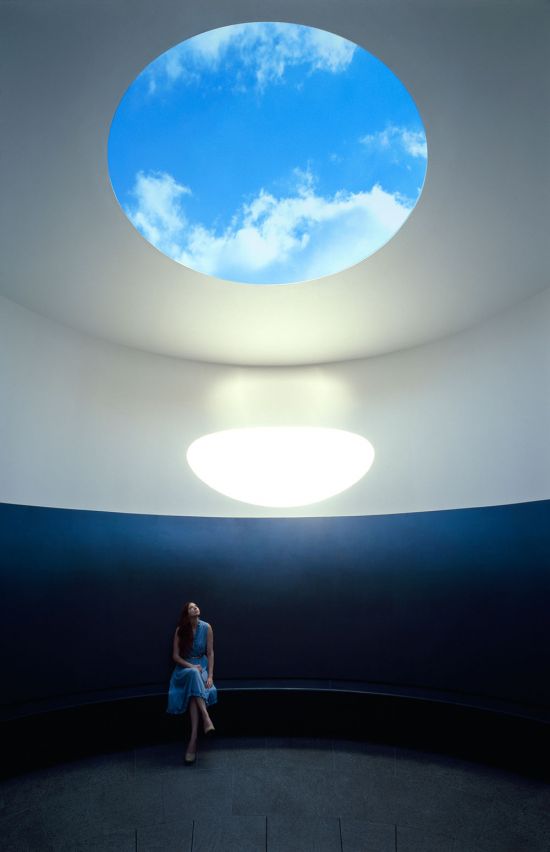 Photo credit: Florian Holzherr