Tonight, UTEP's W.M. Keck Center for 3-D Innovation—a state-of-the-art laboratory focusing on the advancement of 3-D printing, or additive manufacturing—will send the first-ever 3-D printed electronics into space. Preparations for launch begin at 6:30 p.m. (EST) and the mission is set for liftoff between 7:30 p.m. and 9:15 p.m. (EST) at NASA's Flight Facility in Wallops, VA. A live stream of the launch can be viewed at www.spaceflightnow.com.
The printed electronics will travel to space inside a CubeSat, a miniature university-based satellite owned by the University of New Mexico that will be launched as part of a resupply mission for NASA—although the electronics are just along for the ride.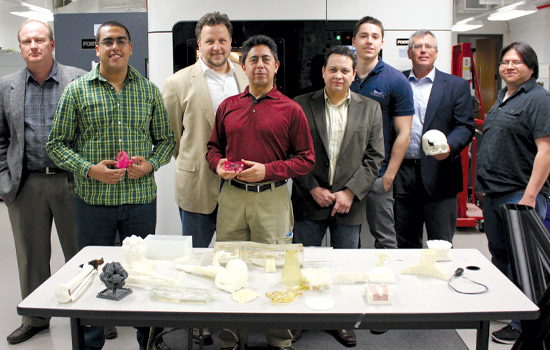 Faculty and students from UTEP's W.M. Keck Center for 3-D Innovation.
"If you can make 3-D electronics, that's great, but if you can make 3-D electronics that can go into space and continue to work, then that makes a statement about reliability," said Eric MacDonald, Ph.D., associate professor of electrical and computer engineering and associate director of the Keck Center. "Space is a vacuum, and there's radiation, and incredibly wide temperature swings—which can cause materials to degrade. But in this case, we're going to prove that our technology will work."
A copy of the Keck Center's 3-D printed electronics that will travel to space are currently on display at the LondonScience Museum in an exhibit called 3D: Printing the Future. The exhibit will run through June 2014. Learn more at www.utep.edu.