For the groundbreaking creation of the lithium-ion battery, John B. Goodenough of The University of Texas at Austin will receive the highest honor in the engineering profession from the National Academy of Engineering in Washington, D.C., on Feb. 18.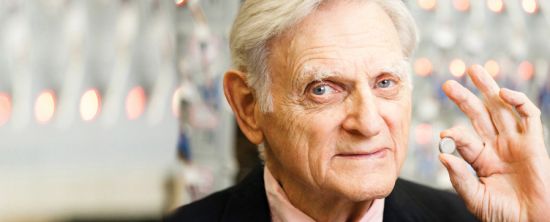 image courtesy: UT Austin
Goodenough is one of four individuals who will receive the Charles Stark Draper Prize for Engineering for "engineering the rechargeable lithium-ion battery that enables compact, lightweight mobile devices." The $500,000 annual award honors engineers whose accomplishments have significantly benefited society.  
In 1979, John B. Goodenough showed that by using lithium cobalt oxide as the cathode of a lithium-ion rechargeable battery, it would be possible to achieve a high density of stored energy with an anode other than metallic lithium. This discovery led to the development of carbon-rich materials that allow for the use of stable and manageable negative electrodes in lithium-ion batteries.
Goodenough's discovery was followed with additional breakthroughs by Rachid Yazami, Akira Yoshino and Yoshio Nishi.
In addition to the Draper Prize, Goodenough was awarded the National Medal of Science in 2013 for his lasting contributions to materials science and technology. He also holds the Japan Prize, which he received in 2000.
Read more at www.engr.utexas.edu