The University of Texas System recently recognized 96 employees for their years of service ranging from 5 to 35 and for their efforts in helping make the UT System a national leader in higher education. The annual Employee Awards Program concluded with a special tribute to Chancellor Francisco G. Cigarroa, M.D., for his many varied and tremendous achievements during the past five years.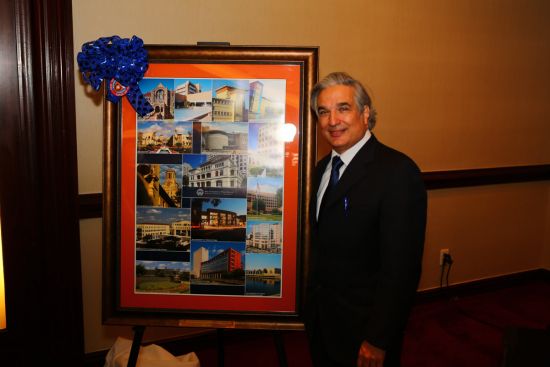 UT System Chancellor Francisco G. Cigarroa, M.D., beside a framed photo of the 16 UT System institutions.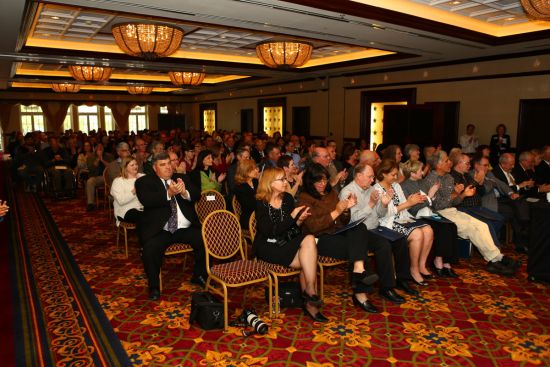 Honorees and attendees recognize the many individuals who elevate the UT System.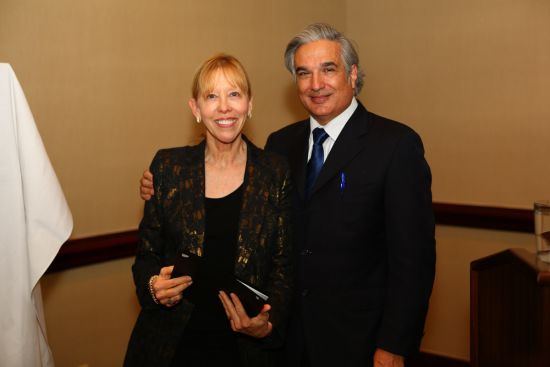 Thirty-five year recipient Francie Frederick, general counsel to the UT System Board of Regents, with Chancellor Francisco Cigarroa.
In opening remarks to attendees of the Employee Awards Program ceremony, Chancellor Francisco Cigarroa said:
"The University of Texas System is a complex enterprise.  Our central System administration alone has more than 600 staff members, with hundreds of different skills, performing the daily tasks that support our nine academic institutions and six health institutions.  University systems like ours require a collective effort, from those who keep our office temperature bearable in the blazing summer heat, to those who maintain and update our technology, to those who cultivate major donors and plan our events, to those who manage University Lands, and to all of you we count on every day to provide outstanding administrative support, which makes our complex operations run smoothly. And so it is my great pleasure to join everyone in recognizing each of our awardees today – all of you who have been making significant contributions to the System over an extended period of time."