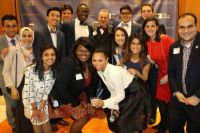 The University of Texas System's Archer Center on Saturday kicked off a celebration of 15 years of excellence in leadership education and a legacy of inspiring young Texans to pursue lives of public service at an event in Washington, D.C., the center's headquarters.
Founded in 2001 by the UT System in conjunction with former U.S. Representative Bill Archer , The Archer Center's mission is to educate the next generation of leaders from Texas for local, state, federal and international service by offering varied experiential learning programs for undergraduate and graduate students from across the UT System.
The center provides talented students with the opportunity to live, learn and intern in the nation's capital through The Archer Fellowship Program and The Graduate Program in Public Policy .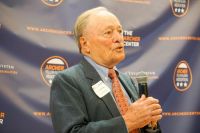 "The Archer Fellowship program prepares leaders not just for the state and our country, but for the world," Congressman Bill Archer said in remarks at the celebration.
Over the course of the past fifteen years, more than 900 students from the UT System have used their Archer Fellowship semester in Washington, D.C., as a springboard to impactful careers or to pursue graduate training at the best institutions in the world. 
"Archer Fellows are shining examples of the students being educated at our institutions. Their semesters in Washington, D.C., not only educate them about how the federal government works, it shows our nation's leaders the quality and talent of the next generation of leaders coming from the campuses of UT System institutions," Vice Chancellor for Federal Relations Bill Shute said.
In addition to Saturday's celebration, The Archer Center is hosting a series of events in Washington, D.C., and Texas throughout April and the coming months to honor its 15-year milestone and to raise awareness and support for the continued expansion of its programs to further carry out the center's mission.
"Leadership education and leadership development are at the heart of Congressman Archer's dream for The Archer Center," Archer Center Director Katie Romano said. "Whether furthering their education as Truman, Marshall and Fulbright Scholars, or serving in public positions at organizations ranging from the White House to the El Paso City Council, our alumni are making an impact on our society."

The Archer Center's mission aligns with The American Leadership Program — one of eight Quantum Leaps proposed by UT System Chancellor William H. McRaven in November as part of his vision to advance the UT System.
The American Leadership Program aims to prepare the future leaders of Texas and to make the System known nationwide for developing great leaders through several initiatives, including undergraduate and graduate coursework and through a brick-and-mortar leadership institute.