UTRGV School of Medicine advancing access to health education and care in the Valley
AUSTIN—The University of Texas Rio Grande Valley School of Medicine is embracing the University's commitment by becoming a leader in community outreach, academic and clinical programs, and improving the health of people in the Rio Grande Valley.   
"We are truly a for-mission medical school and the community outreach aspect of what we're doing is critically important. This is a big part of why the school was created," said Steve Lieberman, M.D., interim dean of the School of Medicine, who presented a progress update to The University of Texas System Board of Regents Wednesday.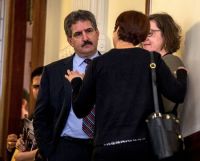 There are currently a number of clinical care specialties that are not available in the Valley at this point, said Lieberman. Patients have to travel to Houston, San Antonio or elsewhere to receive care. The School of Medicine presents a great opportunity to target these specialties and create programs, developing first-time access to great medical care within these major health needs.   
Since the Texas Legislature approved creation of UTRGV and the School of Medicine in 2013, the medical school: 
Has founded the South Texas Diabetes and Obesity Institute;
Will sponsor, by summer 2017, seven medical residency programs at five Valley hospitals – Valley Baptist Medical Center-Harlingen, Doctors Hospital at Renaissance, McAllen Medical Center, Valley Baptist Medical Center-Brownsville, and Knapp Medical Center;
Received preliminary accreditation from the Liaison Committee on Medical Education (LCME);
And completed its Medical Education Building on the Edinburg Campus before welcoming its first cohort of 55 students in June 2016. 
"We are young, we are in the toddler stage," Lieberman said. "We've passed the crawling, standing and walking stages, and we look forward to running in the near future." 
In the next two years, the School of Medicine will focus on building its team of leadership, faculty and administration, developing and maturing clinical partnerships, and filling the region's unmet health needs. 
Lieberman also highlighted the incredible growth in external research funding that the School of Medicine has experienced, which hit $22.7 million in Fiscal Year 2016. Just last week, it received a transformative gift of $15 million from the Valley Baptist Legacy Foundation to help create the UTRGV Institute for Neurosciences. 
After the presentation, Ray Greenberg, Ph.D., UT System's executive vice chancellor for Health Affairs, noted that the success of UTRGV's School of Medicine wouldn't have been possible without the guidance of UT Health San Antonio President William Henrich, M.D., and UT Medical Branch President David Callender, M.D.
"We talk about team of teams here at UT System and I don't think there is a better example of this than the creation of two new medical schools partnered with their founding, parent medical schools," said Greenberg, referring also to UT Southwestern helping lay the groundwork for UT Austin's new Dell Medical School.
To learn more about the UTRGV School of Medicine, visit http://www.utrgv.edu/school-of-medicine/.