Peppers elected global chairman of The Institute of Internal Auditors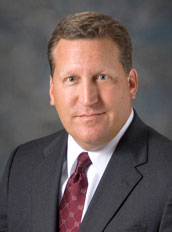 J. Michael Peppers, chief audit executive for The University of Texas System since 2012, has been elected 2017-18 chairman of the Global Board of Directors for The Institute of Internal Auditors.
The IIA is the largest organization representing the interests of the internal auditing profession and provides ethical and professional guidance, continuing education, and certifications to nearly 195,000 members worldwide. The organization's magazine, Internal Auditor, featured Peppers in its August issue.
Peppers is only the second representative from higher education to serve as global chairman in the IIA's 76-year history.
"I am grateful for the opportunity to give back to an organization that has given so much to me and my career, as it has to hundreds of thousands of internal auditors around the world," Peppers said.
As chief audit executive for the UT System, Peppers oversees the internal audit function that serves more than 234,000 students with an annual operating budget of $18.3 billion.
"The entire UT System is very fortunate to benefit from Mike Peppers' leadership, his expertise and his dedication to his profession," said Regent Ernest Aliseda, chairman of the Board's Audit, Compliance, and Risk Management Committee. "It's an honor that he is representing both higher education and the UT System on an international level."
Peppers began his career in public accounting 30 years ago and has worked in higher education since 1993. Before joining the UT System, he served as the director for audit services at UT Medical Branch and as vice president and chief audit officer for UT MD Anderson Cancer Center.
Peppers has chosen as his chairman's year theme #PurposeServiceImpact and plans to challenge internal auditors to "take a cue from our social-media-obsessed culture to identify, unify and connect around purpose, service and impact" in a way that is meaningful to their organizations.
About The University of Texas System
Educating students, providing care for patients, conducting groundbreaking basic, applied and clinical research, and serving the needs of Texans and the nation for more than 130 years, The University of Texas System is one of the largest public university systems in the United States. With 14 institutions and an enrollment of more than 234,000 students, the UT System confers more than one-third of the state's undergraduate degrees, educates approximately two-thirds of the state's health care professionals annually and accounts for almost 70 percent of all research funds awarded to public institutions in Texas. The UT System's operating budget for FY 2018 is $18.3 billion, including $3.6 billion in sponsored programs funded by federal, state, local and private sources. With more than 20,000 faculty – including Nobel laureates and many members of the National Academies – and nearly 80,000 health care professionals, researchers, student advisors and support staff, the UT System is one of the largest employers in the state.