Last Friday I had the opportunity to participate in one of my favorite annual traditions – the Employee Service Awards, recognizing our UT System colleagues who have reached service milestones ranging from five to forty years. At the top of the seniority list – with four decades of service – was Steve Leslie , our Executive Vice Chancellor of Academic Affairs. I'm proud that Steve and I, combined, have 42 years of experience in academia!
In all seriousness, I can't tell you how valuable it is to be surrounded by professionals – not just among my senior team, but throughout the UT System – with so much experience, who are so generous with the wisdom they've acquired over many years.
Forty years ago, as Steve's career at UT was getting started, I said goodbye to the forty acres and joined the Navy. One thing I remember about that year – there were a lot of great movies. In fact, some people have called 1977 the greatest year in movie history. Movies that came out that year include Star Wars, Saturday Night Fever, Annie Hall, and Smokey and the Bandit.
What's interesting to me is not just how many iconic movies came out that year, but how different they were from each other. Think of the genres represented: Science Fiction, Musicals, Romantic Comedy, Action. In theatres around the world, the greatness of American cinema (and America, for that matter), were on display for all the world to see. And that greatness derived – as it always has – from the blending of a multitude of wildly varying elements into a whole that is far more than the sum of its parts.
It reminds me of the UT System. From a teacher in El Paso to a physician in Tyler, a researcher in Houston, a student in the Rio Grande Valley, our System is a powerful force for good because of all the people across the state who every day bring their individual talents, experiences and perspectives to bear on every challenge and question imaginable.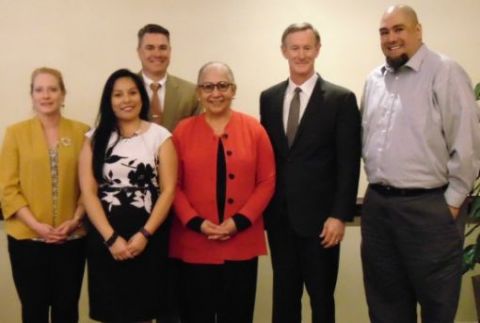 Because they do, there are millions of people – around Texas and around the world – living healthier, most prosperous, happier lives. They may recognize the role one of our institutions played in making all that happen. The health institution that cared for them. The university that set them on a path to success.
But few will realize the role played by all the smart, talented, committed professionals at System. They will never know, for example, the role Lydia Navarro of UT System Police played in helping keep them safe – making sure our peace officers are highly trained and fully licensed. On Friday, we honored Lydia's 35 years of service.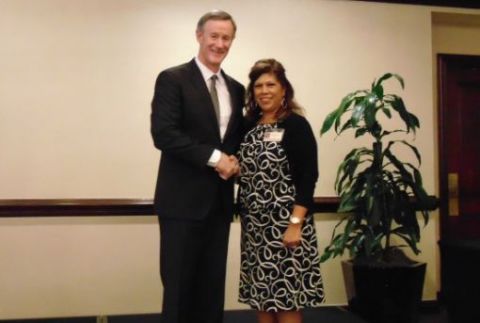 In the years to come, I believe millions of Texans will benefit from increased collaboration between UT System institutions. But few will realize that the collaboration will be fueled in part by the Skype for Business tool being rolled out by Tracie Spillar of the Office of Technology and Information Services. We celebrated Tracie's 30 years of service on Friday.
The number and variety of roles that must be played, flawlessly, for the System to function well never ceases to amaze me. From University Lands to Legal, Federal Relations, Risk Management, Facilities Planning and Construction, External Relations, Employee Benefits, Contracts and Procurement, Health and Academic Affairs, the Controller's office, the list goes on and on.
Wherever I look, I see passionate, brilliant people who could be working anywhere, but choose to work alongside us at the UT System. We honored some of them on Friday, but they honor us every day – and I just want to take one more opportunity to let them know I am profoundly grateful.
Thanks, as always, for reading. I'll write again soon.