Main page content
Blog Category
Healthier Recipes
If your holiday menu needs another vegetable or side, these healthier versions of your favorite comforting classics offer a lighter take on familiar classics. To find more options for healthier side dishes, visit the complete collection from Cooking Light.
Skillet Green Bean Casserole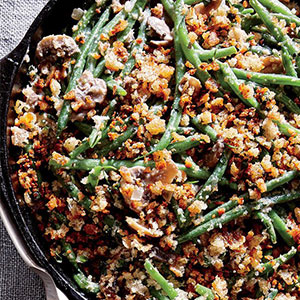 We've shortened (and lightened) this holiday classic by bringing everything together in one pan and using the stovetop and broiler rather than baking.
INGREDIENTS
1 pound haricots verts (French green beans)
2 (1-oz.) slices whole-wheat bread
1/4 cup chopped fresh flat-leaf parsley
3 tablespoons olive oil, divided
1/2 teaspoon chopped fresh garlic
1 1/2 ounces Parmesan cheese (about 6 Tbsp.), grated and divided
1/2 cup chopped yellow onion
4 ounces white mushrooms, sliced
1 1/2 tablespoons all-purpose flour
1/2 cup unsalted chicken stock (such as Swanson)
1/2 cup 2% reduced-fat milk
2 tablespoons dry sherry
1/2 teaspoon kosher salt
1/4 teaspoon black pepper
1/8 teaspoon ground nutmeg
PREPARATION
Preheat broiler to high.
Cook beans in a large saucepan filled with boiling water 3 minutes or until crisp-tender. Plunge beans into ice water; drain well.
Place bread in a food processor; pulse until coarse crumbs form. Stir in parsley, 1 tablespoon oil, garlic, and 2 tablespoons cheese.
Heat remaining 2 tablespoons oil in a 10-inch cast-iron skillet over medium. Add onion and mushrooms; sauté 8 minutes. Stir in flour; cook 1 minute. Stir in stock, milk, and sherry. Bring to a simmer; cook 3 minutes. Remove pan from heat; stir in remaining 4 tablespoons cheese, salt, pepper, and nutmeg. Add beans to pan; toss to coat. Sprinkle evenly with breadcrumb mixture. Broil 2 minutes.
Source: Cooking Light - November 2016
Serves 8 (serving size: about 1/2 cup)
Total per serving: Calories - 124; Fat 7.1g; Protein 6g; Carbohydrate 11g; Fiber 2g; Sodium 241mg; Sugars 4g
Potato and Leek Gratin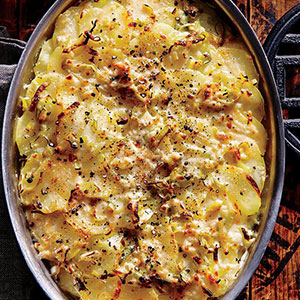 A mandoline will slice the potatoes quickly and to the same thickness, though a sharp knife will also work. Instead of being buried in cream, the potatoes and leeks are simmered in and drizzled with milk so the potatoes get wonderfully crisp and tender and the cheeses form a melty, golden crust. The result is a rich, rustic potato side with contrasting flavors and textures—a bit of crunch to round out the stuffing, sauces, and mashes on the plate. Reheat leftovers in the oven until crisped and warmed through, and then serve with eggs and a side of fruit for breakfast.
INGREDIENTS
2 1/2 cups whole milk
1 1/2 pounds Yukon Gold potatoes, peeled and very thinly sliced
2 garlic cloves, smashed
1 tablespoon unsalted butter
1 large leek, trimmed, halved lengthwise, and sliced (about 2 cups)
1 teaspoon kosher salt, divided
2 ounces Gruyère cheese, shredded (about 1/2 cup)
1 ounce Parmesan cheese, grated (about 1/4 cup)
1/2 teaspoon freshly ground black pepper
PREPARATION
Preheat oven to 375°F.
Combine milk, potatoes, and garlic in a large saucepan; bring to a boil. Reduce heat and simmer 5 minutes or until potatoes are almost tender. Drain in a colander over a bowl, reserving 1/2 cup milk mixture.
Melt butter in a 10-inch cast-iron skillet over medium heat. Add leek; cook 8 minutes or until tender, stirring occasionally. Remove pan from heat; place leek mixture in a bowl. Arrange half of potato slices in a single layer in bottom of skillet or a gratin dish; top evenly with half of leek mixture. Sprinkle with 1/2 teaspoon salt and 1/4 cup Gruyère cheese. Repeat layers with remaining half of potatoes, remaining half of leek mixture, remaining 1/2 teaspoon salt, and remaining 1/4 cup Gruyère. Drizzle with reserved 1/2 cup milk mixture; sprinkle with Parmesan. Cover pan with foil; bake at 375°F for 25 minutes or until cheese melts. Remove foil from pan. Turn on broiler (do not remove pan from oven). Broil 5 minutes or until bubbly and golden brown. Remove pan from oven, and sprinkle with pepper; cool. Cut into 10 wedges.
Source: Cooking Light - November 2016
Serves 10 (serving size: 1 wedge)
Total per serving: Calories - 134; Fat 5.8g; Protein 6g; Carbohydrate 16g; Fiber 2g; Sodium 312mg; Sugars 4g