Main page content
Blog Category
Annual Enrollment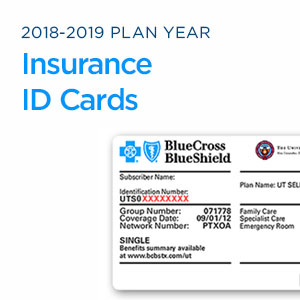 Your UT SELECT Medical insurance ID card(s) will remain the same for the upcoming 2018-2019 Plan Year. You will not receive a new UT SELECT medical ID card, be sure to keep the ID card you currently have.  This is true for all other continuing coverage including UT SELECT Prescription, Dental and Vision insurance, your current insurance ID cards will remain active for the 2018-2019 Plan Year.
Provided you enroll each year, your current UT FLEX Debit Card remains valid through the expiration date displayed on the card. 
For new coverage you have added or made changes to (such as a switch in your dental or vision plan), you will receive a new ID card prior to the start of the plan year on September 1, 2018.
To order additional ID cards for your dependents, please check the plan website for options or contact the appropriate customer service team after September 1, 2018.
INSURANCE PLAN

Issuing New Cards?
Details
Customer Service Information
UT SELECT Medical (BCBSTX)
Only to new enrollees and those subscribers who added family members to coverage

No changes to information displayed on existing UT SELECT medical ID card

www.bcbstx.com/ut
(866) 882-2034

UT CONNECT Medical (DFW AREA ONLY)
Only to all new enrollees
New ID card for new medical plan currently offered in the DFW area only
www.bcbstx.com/utconnect
(888) 372-3398
UT SELECT Prescription (Express Scripts)
Only to new enrollees and those subscribers who added family members to coverage
No changes to information displayed on existing
UT SELECT Prescription
ID card
www.express-scripts.com/ut
(800) 818-0155
UT SELECT Part D
(Medicare)
(Express Scripts)

Only to new Medicare-eligible, fully retired employees and those subscribers who added Medicare-eligible family members to coverage

No changes to information displayed on existing
UT SELECT Medicare Part D ID card

www.express-scripts.com/ut
(800) 860-7849

UT SELECT Dental PPO
(Delta Dental)
Only to new enrollees
No changes to information displayed on current
UT SELECT Dental ID card
www.deltadentalins.com/
universityoftexas
(800) 893-3582
UT SELECT
Dental Plus PPO
(Delta Dental)

Only to new enrollees

No changes to information displayed on current
UT SELECT Dental Plus
ID card

DeltaCare USA Dental HMO (Delta Dental)
Only to new enrollees
No changes to information displayed on current DeltaCare USA ID card
Vision
(Superior Vision)

Only to new enrollees

No changes to information displayed on current Superior Vision ID card

www.superiorvision.com/ut/
(800) 507-3800

Vision Plus
(Superior Vision)
Only to new enrollees
No changes to information displayed on current Superior Vision Plus ID card
UT FLEX Debit Cards

Only to new enrollees in Health Care Reimbursement Account (HCRA)

If your UT FLEX card is not expiring, you can continue to use it for your 2018-2019 UT FLEX Health Care Reimbursement Account

www.myutflex.com
(844) UTS-FLEX
(844-887-3539)