Main page content
Blog Category
Healthier Recipes
Healthy and bright thanks to the high dose of vitamins they contain, sweet potatoes are a go-to instead of their starchy white cousins. If you want more ideas for serving up sweet potatoes, visit the complete collection from Cooking Light for additional recipes.
Sweet Potato Medallions with Almond Sauce and Chickpea Salad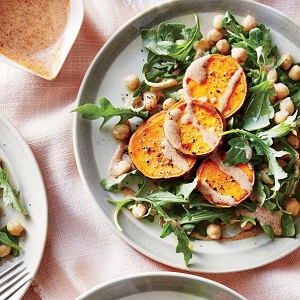 It may seem too good to be true, but it's not: This impressive, full plate requires only 5 ingredients (water, oil, salt, and pepper are considered freebies). Microwaved sweet potatoes are sliced into medallions, brushed with oil, and lightly seared so they become satisfyingly steak-like. The creamy, nutty sauce adds richness, and the lemon-dressed arugula-chickpea salad bulks up the plate beautifully. In place of almond butter, you could substitute any nut butter you like—peanut, cashew, or sunflower butter would be delicious. And if canned chickpeas aren't in your pantry, you can use another mild legume; try cannellini or navy beans.
INGREDIENTS
4 small (4-oz.) sweet potatoes
1/4 cup creamy natural almond butter
3 1/2 tablespoons warm water
3 tablespoons fresh lemon juice, divided
2 tablespoons olive oil, divided
1 (15-oz.) can unsalted chickpeas, rinsed and drained
5 ounces baby arugula
3/4 teaspoon kosher salt
1 teaspoon black pepper
PREPARATION
Prick potatoes all over with a fork; place on a microwave-safe plate, and microwave at HIGH just until tender, about 5 minutes.
Cut into 1/2-inch-thick rounds.
Whisk together almond butter, water, and 1 tablespoon lemon juice in a bowl. Set aside.
Brush potato slices on 1 side with 1 tablespoon oil.
Heat a large skillet over medium-high.
Working in batches, cook potato slices, oil side down, until golden brown, 2 to 3 minutes.
Combine chickpeas, arugula, salt, pepper, remaining 2 tablespoons juice, and 1 tablespoon oil in a large bowl.
Divide chickpea mixture among 4 plates; top with sweet potato slices.
Drizzle with almond butter sauce.
Source: Cooking Light - November 2016
Serves 4 (serving size: about 1 1/2 cups salad, about 3 sweet potato medallions, and about 1 1/2 tbsp. sauce)
Total per serving: Calories - 379; Fat 17g; Protein 12g; Carbohydrate 47g; Fiber 10g; Sodium 493mg; Sugars 7g
Slow Cooker Beef-and-Sweet Potato Chili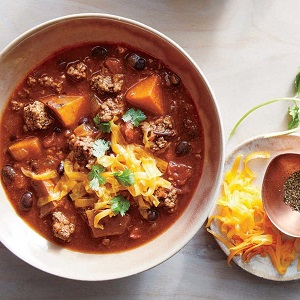 Leaving the peels on the sweet potatoes has three benefits: Prep is faster, you add more fiber, and the potatoes hold their shape better after the 7-hour simmer. Besides, the peels get so tender that you barely notice they're there. If you'd like to change things up, try parsnips in place of the sweet potatoes; they have a similar sweetness and earthier flavor and won't fall apart after cooking for an extended time. You don't need to fully cook the ground beef before it goes into the slow cooker; just cook it enough to "set" the shape of the crumbles.
INGREDIENTS
1 pound 90% lean ground sirloin
4 cups (3/4-in.) cubed unpeeled sweet potato (about 1 1/4 lb.)
2 1/2 cups unsalted beef stock
2 cups chopped yellow onion
1 cup chopped red bell pepper
1/4 cup unsalted tomato paste
2 tablespoons chili powder
1 1/2 teaspoons kosher salt
1 1/2 teaspoons ground cumin
1/2 teaspoon ground red pepper
8 garlic cloves, minced
2 (14.5-oz.) cans unsalted diced tomatoes, undrained
1 (15-oz.) can unsalted black beans, rinsed and drained
1 cup chopped fresh cilantro, divided
4 ounces sharp cheddar cheese, shredded (1 cup)
PREPARATION
Heat a large nonstick skillet over medium-high.
Add beef to pan; cook, stirring often, just until crumbled and mostly browned, about 3 minutes. (Beef will not be fully cooked.)
Remove from heat.
Combine sweet potatoes and next 11 ingredients (through black beans) in a 6-quart slow cooker.
Stir in beef.
Cover and cook on LOW 7 hours.
Stir in 1/2 cup cilantro.
Ladle chili into 8 bowls; top with cheese and remaining cilantro.
Source: Cooking Light - November 2016
Serves 8 (serving size: about 1 1/2 cups chili, 2 tbsp. cheese, 1 tbsp. cilantro)
Total per serving: Calories - 349; Fat 12g; Protein 25g; Carbohydrate 35g; Fiber 8g; Sodium 655mg; Sugars 10g