Main page content
Blog Category
Healthier Recipes
Summer is the perfect time for entertaining family and friends. Whether you're throwing a pool party or just grilling in the backyard, summer offers delicious ingredients for flavor-packed appetizers and light options. For more seasonal appetizer ideas, visit the complete collection from Cooking Light.
Nectarine and Radish Salsa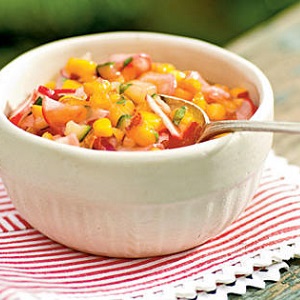 Serve this no-cook condiment with grilled chicken, pork, or fish. Or use as a topping for grilled bread or a dip for toasted tortilla wedges.
INGREDIENTS
2 1/4 cups (1/4-inch) diced nectarines 
1 1/2 cups radishes, halved lengthwise and thinly sliced 
1/2 cup chopped cucumber 
1/4 cup finely chopped red onion 
1 tablespoon fresh lime juice 
2 teaspoons chopped fresh cilantro 
1 1/2 teaspoons sugar 
1/4 teaspoon salt
PREPARATION
1) Combine all ingredients in a medium bowl.
2) Toss well.
3) Let the salsa mixture stand 30 minutes.
Source: Cooking Light, June 2009
Serves 12 (serving size: 1/3 cup)
Nutritional Information: Calories 18; Fat 0.1g; Protein 0.5g; Carbohydrate 4.3g; Fiber 0.8g; Sodium 55mg.
Crab-Stuffed Grilled Bell Peppers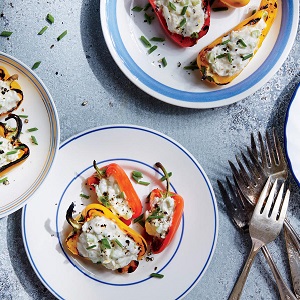 This fast appetizer combines stuffed mini bell peppers and creamy crab dip into one pretty, portable bite. Use multicolored peppers for extra pop.
INGREDIENTS
Cooking spray 
12 mini sweet bell peppers, halved lengthwise and seeded 
1/4 cup finely chopped celery 
1 1/2 teaspoons grated lemon rind 
2 tablespoons fresh lemon juice 
1/2 teaspoon freshly ground black pepper 
1/4 teaspoon kosher salt 8 ounces lump crabmeat, shell pieces removed 
3 ounces whipped cream cheese, softened 
1 tablespoon minced fresh chives
PREPARATION
1) Preheat grill to high.
2) Coat grill rack with cooking spray.
3) Arrange peppers, cut sides up, on grill rack; cover and cook 4 minutes or until well marked.
4) Place celery and next 6 ingredients in a bowl; stir well.
5) Spoon mixture into pepper halves.
6) Sprinkle with chives.
Source: Cooking Light, June 2016
Serves 8 (serving size: 3 stuffed pepper halves)
Nutritional Information: Calories 86; Fat 4.2g; Protein 8g; Carbohydrate 4g; Fiber 1g; Sodium 205mg; Sugars 2g.