Main page content
Blog Category
Be a Wise Healthcare Consumer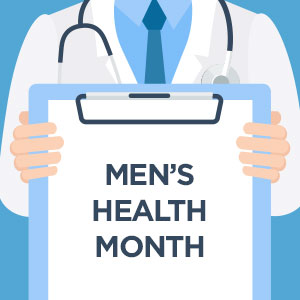 June is Men's Health Month! This month we would like to highlight the preventive care and mental health care benefits available to men covered under our UT SELECT Medical plan. 
Men stay healthier and prevent certain health problems by eating right, exercising, getting enough sleep, and staying away from things that can harm your health, such as tobacco. But, there are other parts of preventive care that should not be overlooked – getting routine health screenings and exams, and addressing mental health issues.
Did you know that your heart health is tied to your mental health?  Learn more about the importance of treating mental health conditions such as depression and anxiety in order to keep your heart healthy from the Centers for Disease Control and Prevention (CDC).  In our May 2018 Newsletter we included an article regarding the importance of seeking mental health care. Read the May article to learn more about the resources available at your UT institution and the Mental Health Benefits through the UT SELECT Medical Plan.
Even if you're not having any health problems, you should have a yearly exam. Your doctor will give you a physical exam, do screenings for things like blood pressure, diabetes and cholesterol levels, and talk with you about your health concerns. Your doctor can also make sure you're getting the shots you need to prevent illness.
Preventive care and screenings can often mean finding health problems early, when your chances for treatment and recovery are better. The UT SELECT Medical plan covers many preventive health care services with no out-of-pocket costs.
Preventive Care Benefits through the UT SELECT Medical Pan
When you visit a network provider, preventive care services available at no cost to you include:
Routine annual physicals;
Blood pressure, diabetes and cholesterol tests;
Prostate cancer screening;
Colorectal cancer screening for adults age 50 to 75;
Vaccines (recommended ages, doses, and populations vary);
Screenings for Sexually Transmitted Infections (STIs) along with prevention counseling for adults at higher risk;
Help to stop smoking, lose weight, fight depression, and reduce alcohol abuse; 
More detailed information on our preventive care benefits can be found on pages 29 and 30 of the 2017-2018 UT SELECT Medical Plan Guide.