Main page content
Blog Category
Healthier Recipes
Enjoy the fresh flavors of the season with these salad recipes to remind you that spring has sprung. For more spring recipe ideas, check out the entire collection from Cooking Light.
Spring Pea Salad with Creamy Curry Dressing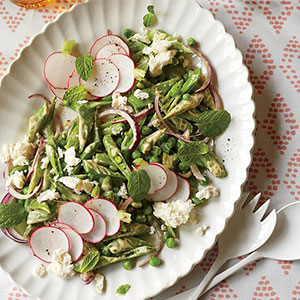 Wonderful flavor comes from Madras curry powder--it's bold but not too heavy. If you can only find regular curry powder, start with half the amount we call for.
INGREDIENTS
4 cups sugar snap peas, trimmed and diagonally sliced
1 tablespoon Madras curry powder
1 1/2 tablespoons fresh lime juice
1/4 cup canola mayonnaise
3 tablespoons plain 2% Greek yogurt
1 tablespoon fat-free milk
1/2 teaspoon sugar
1/2 teaspoon kosher salt
1/2 teaspoon freshly ground black pepper
3/4 cup very thinly vertically sliced red onion
1/3 cup torn fresh mint leaves
1 (10-ounce) package frozen petite green peas, thawed
1 cup very thinly sliced radishes
2 ounces feta cheese, crumbled (about 1/2 cup)
PREPARATION
Bring a large pot of water to a boil. Add snap peas; cook 2 minutes. Drain and rinse with cold water; drain well. Set aside.
Combine curry and juice in a small bowl. Let stand 5 minutes. Add mayonnaise and the next 5 ingredients (through black pepper), stirring well with a whisk.
Combine snap peas, red onion, mint, and green peas in a large bowl. Add mayonnaise mixture; toss gently to coat. Top with radishes and feta.
Source: Cooking Light - April 2015
Serves 12 (serving size: 1/2 cup)
Nutricional Information: Calories 72; Fat 2.5g; Protein 4g; Carbohydrate 9g; Fiber 3g; Cholesterol 4mg; Sodium 201mg; Calcium 64mg.
Spring Vegetable and Quinoa Salad with Bacon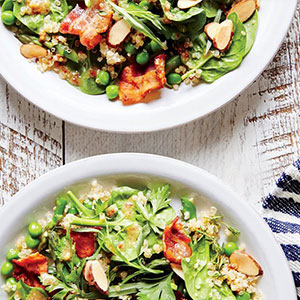 This rich and dynamic quinoa salad could easily be pulled together with whatever leftover grain you have on hand, such as farro or bulgur. A trio of fresh herbs deliver a major dose of freshness while balancing out more robust flavor components, such as whole-grain Dijon mustard and toasted almonds. To make this dish vegetarian, prepare the quinoa using vegetable stock instead of chicken stock and eliminate the bacon.
INGREDIENTS
2 1/2 cups fresh asparagus, cut diagonally into 1-inch pieces
1/2 cup frozen green peas
3 center-cut bacon slices, chopped
3 tablespoons cider vinegar
1 tablespoon unsalted butter
2 teaspoons whole-grain Dijon mustard
1 3/4 cups Ginger-Coconut Quinoa
1 teaspoon black pepper
1/2 cup chopped fresh flat-leaf parsley
1 tablespoon chopped fresh tarragon
1 tablespoon fresh thyme leaves
5 ounces baby spinach
3 tablespoons sliced almonds, toasted
PREPARATION
Bring a large saucepan filled with water to a boil. Add asparagus and peas; boil 2 minutes. Drain. Plunge into a bowl of ice water; drain.
Cook bacon in a large skillet over medium-high heat 4 minutes, stirring occasionally. Remove bacon from pan with a slotted spoon; set aside. Add vinegar, butter, and Dijon mustard to drippings in pan, stirring with a whisk until butter melts. Add quinoa and pepper to pan; cook 1 minute. Place quinoa mixture in a medium bowl; add asparagus mixture, parsley, tarragon, thyme, and spinach, tossing to combine. Divide quinoa mixture among 4 plates; sprinkle evenly with reserved bacon and almonds.
Source: Cooking Light - April 2016
Serves 4 (serving size: about 1 cup)
Nutritional Information: Calories 266; Fat 10.1g; Protein 13g; Carbohydrate 33g; Fiber 7g; Cholesterol 11mg; Sodium 245mg; Calcium 115mg; Sugars 5g.
SaveSave
SaveSave
SaveSave