Main page content
Blog Category
Be a Wise Healthcare Consumer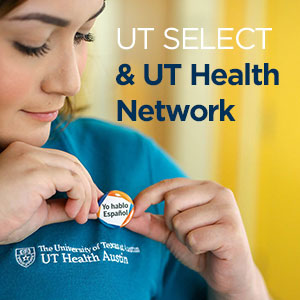 Below is a quick refresher on how the UT Health Network works, as well as a link to an overview outlining this continuing benefit for those enrolled in the UT SELECT Medical plan.
How does the UT Health Network benefit work?
The UT Health Network offers an enhanced level of benefits for UT SELECT Medical participants, including lower copays and coinsurance as compared with the in-network benefit that applies when you visit other contracting providers within the Blue Cross Blue Shield of Texas PPO network. 
The higher level of benefits will apply when you see a participating UT physician at a participating UT-owned facility. You can also save on physician charges when treatment is received from a participating UT physician who is working at a non-UT-owned facility. 
Please review our resource sheet to learn more about your benefits when using the new UT Health Network, to find out where you can access care under the UT Health Network, and see several typical claims examples.