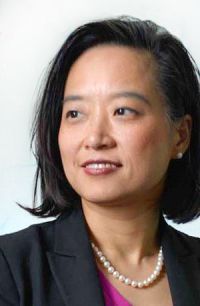 Renowned physician and researcher Lynda Chin, M.D., is The University of Texas System's associate vice chancellor for health transformation and chief innovation officer for health affairs. Chin leads the UT System's Institute for Health Transformation, which leverages, develops and deploys innovative, technology-enabled solutions to improve access and affordability of quality health care in Texas and beyond.
The Institute for Health Transformation is initially focused on Project DOC – Diabetes Obesity Control – an initiative to improve diabetes care and management in South Texas.
Prior to joining the UT System in 2015, Chin was the founding chair of Genomic Medicine and scientific director of the Institute for Applied Cancer Science at UT MD Anderson Cancer Center. Chin has made multiple scientific discoveries spanning the fields of transcription, telomere biology, and mouse models of human cancer and cancer genomics. She has won numerous distinguished honors for her contributions, including election to the prestigious Institute of Medicine (IOM) of the National Academies in 2012.
On October 6, 2016, Dr. Chin was appointed by the National Academies of Sciences, Engineering, and Medicine to a committee that will help guide U.S. policy on global health. Read the press release >
Contact
Lynda Chin

:

Email: lchin@utsystem.edu
O. Henry Hall
601 Colorado Street
Austin, Texas 78701-2982

Phone: (512) 852-3215