Diversity, Equity & Inclusion
at The University of Texas System
As an employer, the UT System aspires to be a welcoming and supportive place to work that embraces differences—not only because they make us a more creative, thoughtful and stronger organization, but because it's the right thing to do. Underpinning this philosophy is a belief that talent is universal—distributed evenly regardless of gender, race, national origin, ethnicity, age or anything else—but, unfortunately, opportunity is not. We believe the UT System has both an opportunity and a responsibility to lead in matching talent and opportunity, and we are determined to have a leadership team and workforce that are as diverse as the people we serve.
At UT System, we aim to develop a culture, practices, and policies that are equitable and inclusive. To do that, we recognize that we must listen to our employees, dedicate resources, and approach these issues with intentionality and courage. We want UT System to be an organization where our people feel and know they are supported, where no one feels invisible. The information on this page and linked below provides an overview of our philosophy, initiatives, and resources in the interests of accountability and transparency.
We recruit and retain diverse talent and promote equity and inclusion for all employees to foster a culture of transparency, engagement, and innovation.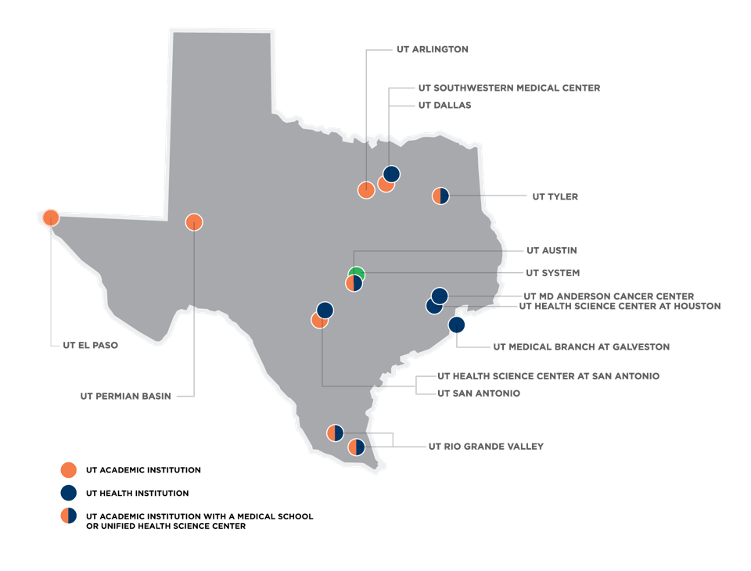 A System-wide Approach
UT System Administration provides administrative support and leadership for the 13 academic and health institutions that make up The University of Texas System. The UT System is not only uniquely diverse geographically, but also in the students, faculty and staff who make up the 13 health and academic institutions. The UT System Administration provides a system-wide approach to support environments that value diversity, equity and inclusion in efforts to improve the lives of Texans and people all over the world.