The UT System Board of Regents' recommended formatting is built into the templates. All PowerPoint presentations for Board of Regents meetings should be created in widescreen format (using 16x9 ratio, instead of 4x3).
View the style requirements for PowerPoint presentations to the Board.
To download PowerPoint files, click on the graphic and the file should automatically download.
Style 1: Dark Blue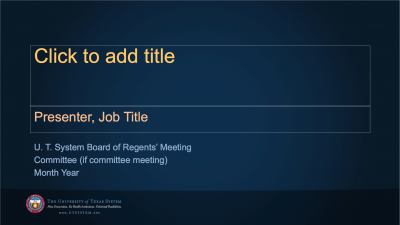 Dark background best used to highlight instructional colored text, large photography, video and other media. Download.
Style 2: Light Blue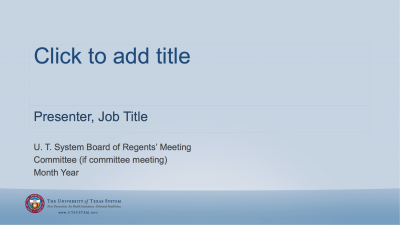 A light color best used for short presentations that feature statements, lists and small photos. Download.
Style 3: White
A neutral style best used with graphs, charts and data. Download.
For questions regarding PowerPoint templates please contact branding@utsystem.edu.