Body
The University of Texas System has announced alignment of more than $20 million in equipment, faculty resources, and seed grants with the goals of the BRAIN Initiative: In 2013, the University of Texas (UT) System organized a multi-campus Neuroscience Council in response to the BRAIN Initiative. The Council brings together top researchers from UT's 14 academic and health institutions to explore new convergent research that takes advantage of faculty expertise in disciplines such as engineering, computer science, mathematics, materials science, physics, and chemistry, along with cutting-edge resources such as the 10-petaflop supercomputer at UT Austin.
29% of all UT NIH grants are neuroscience-related for FY16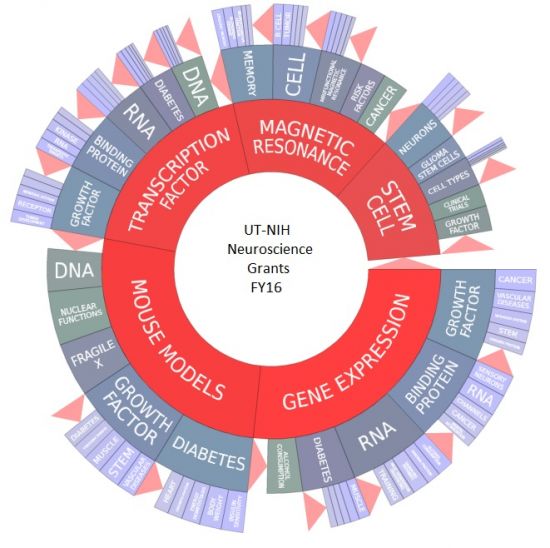 The above image represents the different areas of Neuroscience-related research at UT System institutions in FY16. To see a detailed report please click the following NIH button or here. Note: This information is current as of November 2016.


186 million awarded to UT System for NIH Neuroscience Research in FY16 (63% of all funds awarded in Texas)

513 NIH Neuroscience grants awarded to UT System in FY16 (63% of all projects awarded in Texas)
Number of Neuroscience-Related Grants in FY16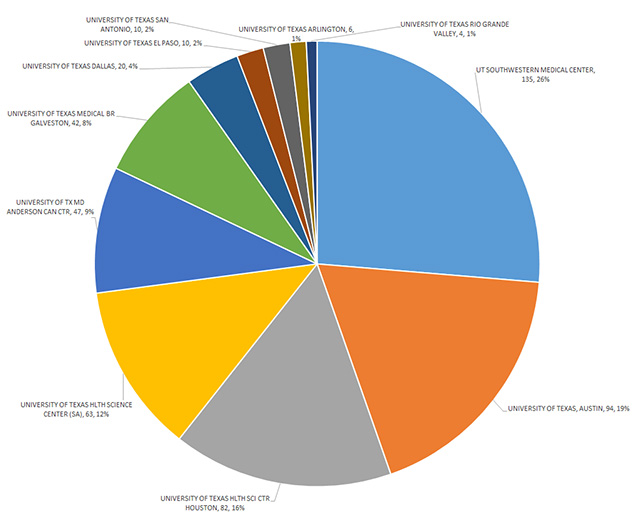 The pie chart above represents the number of neuroscience-related grants awarded to UT Institutions from the NIH in FY16.
2016 Neuroscience Research Update Slides
FY15 Neuroscience Funding Summary
FY14 Neuroscience Funding Summary
For questions or comments please contact Tom Jacobs tjacobs@utsystem.edu or Emily Weber eweber@utsystem.edu.