Body
The University of Texas MD Anderson Cancer Center is one of the world's largest and most respected centers devoted exclusively to cancer patient care, research, education and prevention. Ranked by U.S. News &World Report as the nation's top hospital for cancer care for nine of the past 10 years, MD Anderson is a place where great hope, unwavering determination, unrivaled expertise and globally renowned leadership are translated into new, more effective and safer ways to defeat cancer. Always the central focus of every effort, patients have long trusted the institution to use all available and emerging tools to fight and beat their cancers.

Around the world, there are people alive today because they came to MD Anderson — or received standards of cancer care developed there and shared globally. MD Anderson is committed to its mission to end cancer in Texas, the nation and the world. This institution's history of raising the bar in cancer research and patient care has prepared its experts to develop and deliver new standards across the cancer care spectrum that make real and rapid progress for all patients and families. Last year, nearly 135,000 people sought the superior care that has made MD Anderson so widely respected—more than 41,000 of whom were new patients. Over 7,500 participants were enrolled in more than 1,200 clinical trials exploring innovative treatments. MD Anderson's cancer clinical trial program is one of the largest of its kind.

In almost five years, MD Anderson's Moon Shots ProgramTM, a dynamic action plan for saving more lives from cancer more quickly, has elevated team science to new levels. Novel, more effective models for cancer research are forging the future of the field. MD Anderson is developing new immunotherapies that harness the body's own mechanisms to attack cancer cells while sparing healthy cells. Cancer incidence is being curbed through control and prevention and outreach efforts that span well beyond Houston.  Only an institution of MD Anderson's size and scale is capable of integrating so many promising efforts, with such intensity, at one time.
Position Specification
A comprehensive position specification document can be found here.
Search Advisory Committee
Committee members were selected in accordance with the Board of Regents' Rules and Regulations, which include a provision for representation on such committees by various constituencies of the institution.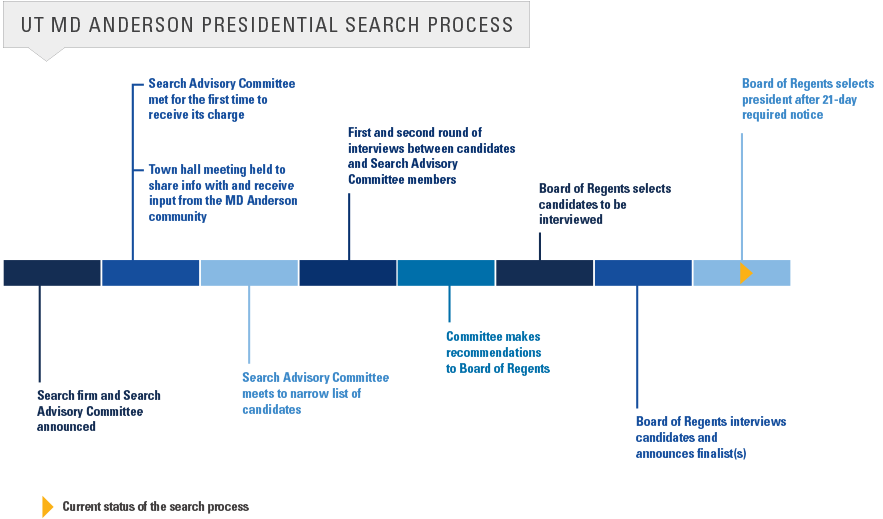 ---
Updates
December 1, 2017
Peter W.T. Pisters, MD, MHCM begins his tenure as president of UT MD Anderson.
September 18, 2017
Peter W.T. Pisters, MD, MHCM officially named president of UT MD Anderson.
August 25, 2017
UT Regents name finalist for president at UT MD Anderson.
August 1, 2017
The search advisory committee convened in a special called meeting to recommend candidates to the Board of Regents for future interviews.
June 21, 2017
The Search Advisory Committee met and has narrowed down the list of candidates.
May 2, 2017
A committee to advise the UT System Board of Regents on the selection of a president for UT MD Anderson Cancer Center was announced by Regents' Chairman Paul L. Foster.
---