Main page content
New agreement for Ph.D. students to shorten time to degree completion
While it may sound like a clichéd stereotype, the doctoral student that takes years and years to finish a Ph.D. is actually a longstanding problem for universities – one that drains important resources and limits new students enrolling in programs.
As one of the largest university systems in the nation, The University of Texas System can't afford to ignore the issue. That's why, in 2011, Chancellor Francisco G. Cigarroa, M.D., committed to address Ph.D. students' time-to-completion in his Framework for Advancing Excellence throughout The University of Texas.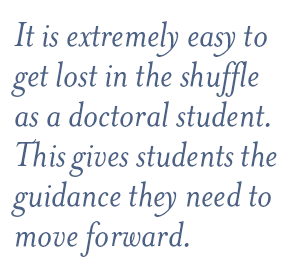 Starting Fall 2013, students seeking a Ph.D. at UT System institutions will sign tailored agreements with their departments that specify when they are expected to graduate and when they are expected to reach required academic milestones. It's an important step in ensuring doctoral students receive their degrees in an efficient and timely manner.
The Milestone Agreement Form serves as a standard Systemwide template that can be tailored for each doctoral program's unique requirements. But this aggressive approach isn't one-sided. Students will also have support to help them reach their milestones, and ultimately earn their degree.    
The new agreement promises to enhance academic advising for Ph.D. students and emphasizes a considerable responsibility on advisors to guide students through the program. Advisors will also offer advice and counseling on career options.

"This is hugely important. It is extremely easy to get lost in the shuffle as a doctoral student and not know where to turn next," said Ashley Purgason, who serves as a Student Regent on the board and is also a doctoral student at The University of Texas Medical Branch at Galveston. "This gives students the guidance they need to move forward."
The agreement also provides a customized timeline with expected completion dates, a degree completion checklist, and a list of characteristics of the Ph.D. program providing pertinent information such as graduation rates, average time to degree, average financial support provided and an employment profile. See the Milestone Agreement Form template here.
The agreement was carefully drafted by a task force of graduate deans formed in response to Cigarroa's call to shorten the time to Ph.D. completion and was approved by the Board of Regents at its meeting on November 15, 2012.
"A growing body of research on doctoral education indicates that students are more likely to complete their doctoral degree in a timely fashion if students and faculty discuss at the outset of a program the stages of the lengthy and complex process of earning a Ph.D.," said task force member and UT Arlington Dean, Philip G. Cohen, Ph.D. "And if faculty provide feedback and guidance at each of these stages."