Powell, Cigarroa and Garcia honored during UTB celebration
http://www.youtube.com/watch?v=i3yxaKcMl8M
Several hundred supporters of UT Brownsville gathered for a celebration on May 27 to honor the leadership and vision of UTB President Juliet García, Ph.D., UT System Board of Regents Vice Chairman Gene Powell and Chancellor Francisco G. Cigarroa, M.D. The event also marked the efforts of UTB supporters to raise scholarship funds toward several UT Rio Grande Valley endowments.
Included in the evening's program, Dr. García bestowed the honor of being a "Diamond Among Us" to Board of Regents Vice Chairman Gene Powell, a native of Weslaco, and Chancellor Cigarroa.
The Diamonds Among Us award was established during UT Brownsville's 10th anniversary celebration to honor the selfless actions of special people who have steadfastly advocated for the growth of higher education in the Lower Rio Grande Valley.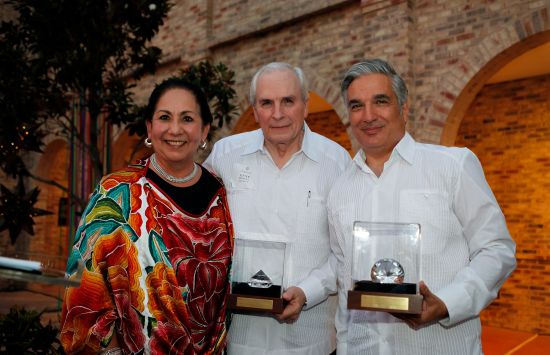 (From Left: García, Powell and Cigarroa.)
Read Dr. García's speech below:
In 1900 the State of Texas had only one medical school. It was what we call today, UTMB on Galveston Island. That year on September 8th, the deadliest natural disaster ever to strike the United States, called simply the Hurricane of 1900 or the Galveston Storm, made landfall. More than 8,000 people lost their lives.
The medical school had only one building at the time. Three days after the hurricane on September 11th, 1900, the President of the medical school sent a telegram to the Chairman of the UT System Board of Regents that said, "Five feet of water in the basement. School should not open this term."
The next day the president received a response from the Chairman of the Board of the UT Regents, and it said, "The University of Texas stops for no storm." The basement was quickly cleaned up and classes were offered that term on that campus.
A few years ago, we had our own version of a storm here when we had to weather a dramatic separation from a 20-year-old partnership and the loss of many good people and of much of our campus. In the summer of 2012, I received a framed copy of those two telegrams as a gift.
They were sent to me by Gene Powell, the chairman of the Board of Regents. He told me that once he had discovered the telegrams, they served to inspire his own leadership. So he had three copies of the telegrams framed.
One copy he gave to his colleagues on the board of regents and another to Chancellor Cigarroa to inspire them for the work that lay ahead. And then he said "I had one left, but I wasn't sure who I had it made for." Then, in the summer of 2012, Regent Powell learned that things were very difficult for us here, that we were losing many good people and that we were going to have to look for a new campus. He told me that the next day, when he walked into his office and saw the last copy of the telegrams there, he told his secretary, "Now I know who the third set was for. Send it to Juliet García at UTB. "
Russell Conwell, who founded Temple University more than 125 years ago, crafted a famous speech called Acres of Diamonds. The lecture is a morality tale of the value of education, devotion to Judeo Christian values and the importance of family and community service. The core of its message: "Your diamonds are not in far distant mountains or in yonder seas; they are in your own backyard, if you but dig for them."
The Diamonds Among Us award was established during UT Brownsville's 10th anniversary celebration to honor the selfless actions of special people who have steadfastly advocated for the growth of higher education in the Lower Rio Grande Valley.
Tonight it gives me great pleasure to add two new diamonds to our collection of gems.
December 6, 2012, will long be remembered as the day Chairman Gene Powell and Chancellor Francisco Cigarroa and subsequently, the UT System Board of Regents, flung open the door of opportunities to the universities in the Rio Grande Valley to join their sister institutions as equal recipients of the Permanent University Fund (PUF)—a dream long-awaited.
There will be many versions of this story told in the future, but the one that I know as eyewitness to the event is that from the day that Gene Powell was sworn in by Governor Perry, his aim was, unapologetically, to make a difference for the Rio Grande Valley during his term. The day that Gene was sworn in, I sat toward the back of the UT System Regents Board Room when he was being sworn in by the Governor. After the swearing in, he was asked to say a few words. It was then that I first heard his commitment to the Valley. He said something like: During my term, I intend to focus on bringing more opportunities for the people of the Rio Grande Valley.
I had never met Gene Powell before that day, but I made it a point to work my way up to the front of the room along with many others to meet him to try to discover who this fellow was anyway?
I believe in providence – that once in a great while, planets align, and God's hand places us where we can make a difference. I also believe that in times like these, it is up to each of us to surface our courage. To step out; say what others are fearful of saying; claim the moment to save a life or thousands of lives.
Recently, I heard the president of Harvard talk about the Boston Marathon bombing. She said that most people, when they heard the explosions, began to run away, as fast as they could. But not everybody ran away. Some people ran toward the explosions and returned to see how they could help the many that were injured.
Chairman Gene Powell and Chancellor Francisco Cigarroa ran toward us; not away from us. Chancellor Cigarroa had the vision for what could happen. Gene Powell used all of his business acumen and political savvy to make it happen. Both seized the task of making the Valley's universities eligible to receive Permanent University Funds because it was the right thing to do; not because it was the easy thing to do.
During what was a difficult time for our university and our community, Chancellor Cigarroa and Chairman Powell signaled their faith in our ability to build a new place: a place that is proud of its heritage, experienced by its history and inspired by the people it serves.
They knew that if we got this right in Deep South Texas, the rest of the state and the nation stand to be fortunate beneficiaries of our good and important work.
I extend my congratulations to Chancellor Cigarroa and Regent Powell for their vision and courage during a tumultuous time; for always seeking higher ground, for succeeding to accomplish what many others had feared to even discuss, much less attempt; for understanding that we had just one shot at this; for taking it and for making it.
These two gentlemen have chosen to live their lives in ways that matter more for others than for themselves. They are artists of the human spirit who embody the most natural qualities of diamonds—their Color is brilliant, they have Clarity in the goals they wish to achieve, their Cut is precise and strategic, and their Carat Weight is substantial enough to make a difference. And perhaps most importantly, like a diamond, they are resilient and their work will hold enduring value across generations to come.
With the presentation of this award, your critically important roles are noted and forever recorded in the annuals of the history of The University of Texas at Brownsville and, moving forward, in those of The University of Texas Rio Grande Valley.