Heidingsfield receives Harold Cottle Justice Award
AUSTIN—UT System Police Director Michael Heidingsfield was recognized by the Texas Association Against Sexual Assault (TAASA) with the 2016 - 2017 Harold Cottle Justice Award for his significant contributions to the anti-sexual violence movement.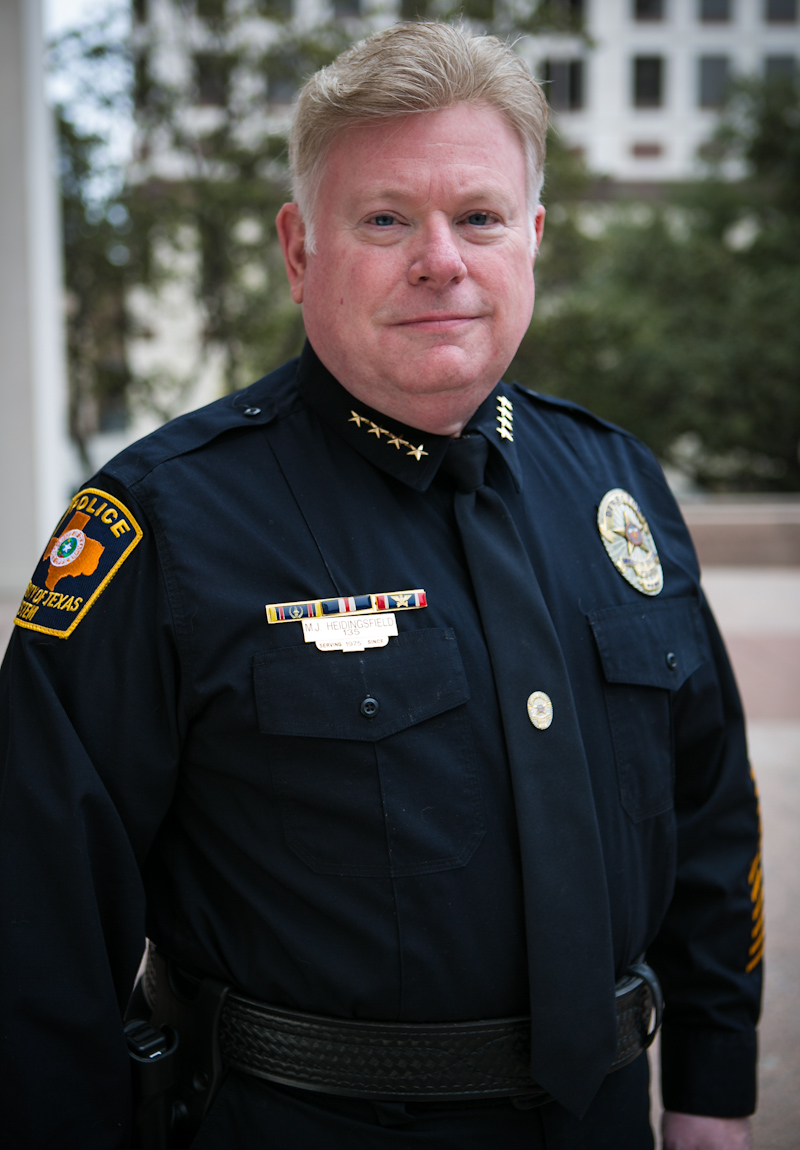 Law enforcement, criminal justice officers and/or legislators were eligible to be nominated for the award, and the judging criteria was based on demonstrated outstanding support for victims and willingness to educate self and colleagues within the criminal justice system about sexual assault.
Heidingsfield played a leadership role in the development of the UT System Blueprint for Campus Police: Responding to Sexual Assault - a 170-page document based on the integration of science, philosophy and protocols. It provides the UT System's 600 sworn campus police officers with guidance to better engage with and understand victims as well as improve the handling of campus sexual assault cases from the initial report until the conclusion. The piece was developed jointly by UT System Police and researchers from UT Austin's Institute on Domestic Violence & Sexual Assault.
Each year, TAASA honors those who have helped open doors, build bridges and have shared their energy and creativity in the campaign against sexual violence.
"Having the opportunity to rely directly on the scientific and academic community to inform police practices is a rare and powerful foundation for action," Heidingsfield said. "We must publicly acknowledge our moral obligation to understand sexual assault for the life-altering and destructive experience it is, and be champions of those victimized."
UT System police are responsible for 14 academic and health institutions with more than 300,000 students, faculty and staff, and began using the Blueprint to train their officers and investigators in April 2016. It has the potential, Heidingsfield said, to be a national model for not only university law enforcement agencies but law enforcement in general.
"We must listen to victims' voices and understand their fears and concerns in the context of current science as well as ensure that our policies and protocols are evolutionary and not stalled in the past," Heidingsfield said.
About The University of Texas System
Educating students, providing care for patients, conducting groundbreaking basic, applied and clinical research, and serving the needs of Texans and the nation for more than 130 years, The University of Texas System is one of the largest public university systems in the United States. With 14 institutions and an enrollment of more than 228,000 students, the UT System confers more than one-third of the state's undergraduate degrees, educates approximately two-thirds of the state's health care professionals annually and accounts for almost 70 percent of all research funds awarded to public institutions in Texas. The UT System's operating budget for FY 2017 is $17.9 billion, including $3 billion in sponsored programs funded by federal, state, local and private sources. With more than 20,000 faculty – including Nobel laureates and many members of the National Academies – and nearly 80,000 health care professionals, researchers, student advisors and support staff, the UT System is one of the largest employers in the state.