UT represented at UN-hosted summit on importance of innovation in job creation
UNITED NATIONS— Julie Goonewardene, a veteran entrepreneur who supports The University of Texas institutions in innovation and commercialization efforts, brought the UT story and spirit of enterprise and entrepreneurship to representatives from around the world last week as a featured speaker at the UN's Small Business Knowledge Summit.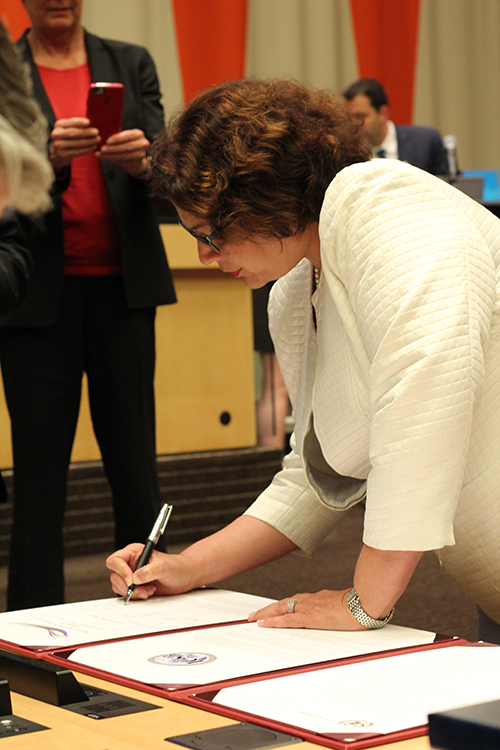 The summit—co-organized by the Mission of Argentina to the UN and the International Council for Small Business with support from the UN Office for Partnerships—focused on the importance of micro, small and medium-sized enterprises, entrepreneurs and start-ups as catalysts in achieving the UN's 2030 Agenda for Sustainable Development Goals.
In her remarks, Goonewardene pointed out that Texas is the perfect laboratory for determining the best ways to support micro, small and medium-sized enterprises that create so much opportunity and prosperity.
"We have regions where the entrepreneurial culture is in full bloom, and opportunities abound. And we have areas where opportunities are few and aspiring businesspeople have little if any ecosystem supporting them," Goonewardene said. "So I would argue that if you find, or create, an approach that works in a state as big and diverse as Texas, there's a good chance it's going to work in lots of other places as well."
As the UT System's Associate Vice Chancellor for Innovation and Strategic Investment, Goonewardene and her team support UT institution efforts in commercialization, growth and expansion of innovation and entrepreneurship.
The Office of Innovation and Strategic Investment is also focused on the most critical ingredient to starting and growing a new company—people. It has launched two new pilot projects that are already demonstrating significant benefit to UT students and recent graduates: the UT System Mentor Network and UT Connects Talent.
Goonewardene highlighted both in her remarks to the UN. The UT System Mentor Network aims to bring mentoring support to smaller or more rural areas of Texas, where access to strong mentors in emerging fields may be lacking. The goal is to level the playing field by creating supported pathways that enable people, regardless of location, to drive their economic future.
UT Connects Talent is another program that supports existing and aspiring young UT entrepreneurs by helping them find their place in the professional world. Today there is a fundamental misalignment, Goonewardene explained in her remarks, in connecting opportunity.
The small and medium-sized enterprises, which are responsible for so much of our state's economic vibrancy, can't find the talent they need to grow. At the same time, smart, educated, talented young people are too often denied opportunities either because of geography, or because of bias in the recruitment process.
UT Connects Talent, in partnership with a company called Digerati, is addressing and reducing the misalignment with an algorithm that is able to return matches to the companies in a way that eliminates bias, and saves time and money.
Here's how it works: A student or recent graduate tells us what they're interested in, what sort of culture they're looking for. Meanwhile, a company—perhaps on the other side of the state—will explain the kinds of activities they need people to do and the qualities they're looking for. UT System is currently in the pilot phase of this initiative linking talent with opportunity. It's underway at UT institutions in the Rio Grande Valley, El Paso, Tyler, Arlington and Dallas with more communities to be added soon.
The mentor network and the talent matching initiative are two ways UT System is leveraging its assets to create pathways to prosperity, but Goonewardene emphasized continuous innovation and evolution.
"Just as the scientists in the lab spend years searching for breakthroughs, we must continue to experiment, to test, and to adjust to find solutions that bring the future we envision—one of prosperity and opportunity for all— closer to reality," Goonewardene said.
About The University of Texas System
Educating students, providing care for patients, conducting groundbreaking basic, applied and clinical research, and serving the needs of Texans and the nation for more than 130 years, The University of Texas System is one of the largest public university systems in the United States. With 14 institutions and an enrollment of more than 228,000 students, the UT System confers more than one-third of the state's undergraduate degrees, educates approximately two-thirds of the state's health care professionals annually and accounts for almost 70 percent of all research funds awarded to public institutions in Texas. The UT System's operating budget for FY 2017 is $17.9 billion, including $3 billion in sponsored programs funded by federal, state, local and private sources. With more than 20,000 faculty – including Nobel laureates and many members of the National Academies – and nearly 80,000 health care professionals, researchers, student advisors and support staff, the UT System is one of the largest employers in the state.