Main page content
UT System Regents honor top student musicians
HOUSTON—Six students will be awarded the Regents' Outstanding Student Awards in Arts and Humanities for their exceptional work in musical arts during The University of Texas System Board of Regents meeting today, Monday, April 30, at UTHealth in Houston.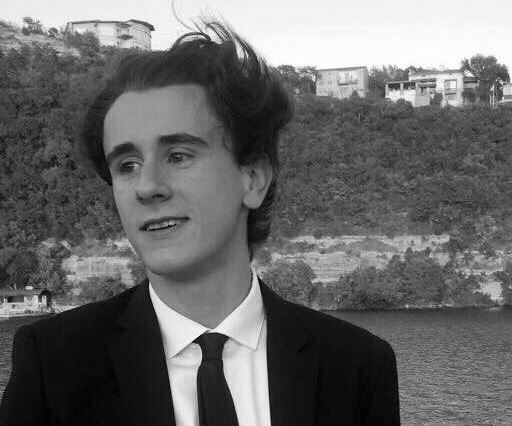 The Regents' Outstanding Student Awards program was established in 2012 to recognize and foster excellence in student performance. The awards vary each year and commend students at UT institutions excelling in one of three disciplines: musical arts, visual arts and creative writing.
The Board of Regents allocates monetary awards for winners in each category – $1,500 for Solo or Duet and $2,500 for the Group Performance category – and they are given to the academic department of the winners' choosing.
This year's recipients are Henry Johnston, a classical guitar student at UT Austin, and The Prophets, a trumpet ensemble at UT El Paso composed of students Jacob Aun, Elijah Ontiveros, Juan Pablo Palacios, Isaac Ponce and Paul Reid.
"The Board of Regents is proud to recognize these remarkable students who are not only talented musicians but are also committed to excellence in their academic endeavors and in serving their communities," Regents Chairman Sara Martinez Tucker said.
Johnston, a second-year student at UT Austin studying Classical Guitar performance in the Sarah and Ernest Butler School of Music under the tutelage of Adam Holzman, will be recognized in the category of Solo or Duet Performance. Johnston plans to obtain his doctoral degree in music and pursue a career as a performing artist.
"My education at the University of Texas has only furthered my desire to pursue my goals professionally and musically," Johnston said. "I'm very thankful to the Board of Regents for giving students a chance to be recognized for their passion in the musical arts."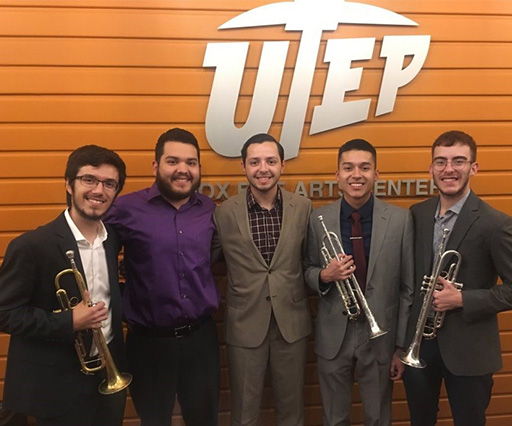 UT El Paso's The Prophets will be recognized in the Group Performance category. The piece they submitted was commissioned by UT El Paso trumpet professor Nancy Taylor and composed by an UT El Paso alumnus. Under Taylor's guidance, The Prophets compete in events such as the International Trumpet Guild and the National Trumpet Competition.
Aun, Ontiveros, Palacios, Ponce, and Reid are music education majors who are involved in both local and university communities. They teach private lessons to local high school students, play in a variety of bands, and are asked to perform for commencement ceremonies.
"Our goal through music is to ultimately strengthen community involvement in the musical arts and elevate the level of musicianship in the Paso del Norte region," Ponce said. "The Prophets are very grateful to the Board of Regents for this meaningful award."
Johnston and The Prophets were among 18 nominations from seven academic institutions who participated in a rigorous campus-based nomination process. Applicants must demonstrate academic excellence and commitment to the arts and humanities through participation in university and community activities. Submissions were reviewed by an external panel, and the music was evaluated based on tone production, technique, rhythm, intonation, interpretation, and the overall quality of performance.
To learn more about the nomination and evaluation process or for details on past and future awards, please visit the Regents' Outstanding Student Awards in Arts and Humanities.  
About The University of Texas System
Educating students, providing care for patients, conducting groundbreaking basic, applied and clinical research, and serving the needs of Texans and the nation for more than 130 years, The University of Texas System is one of the largest public university systems in the United States. With 14 institutions and a projected enrollment of more than 234,000 students, the UT System confers more than one-third of the state's undergraduate degrees, educates approximately two-thirds of the state's health care professionals annually and accounts for almost 70 percent of all research funds awarded to public institutions in Texas. The UT System's operating budget for FY 2018 is $18.3 billion, funded in part by $3.6 billion in sponsored programs from federal, state, local and private sources. With more than 20,000 faculty – including Nobel laureates and members of the National Academies – and nearly 80,000 health care professionals, researchers, student advisors and support staff, the UT System is one of the largest employers in the state.