100th UT System Police Cadet Class Continues Legacy of Protection and Service
AUSTIN – For the past 50 years, The University of Texas System Police has been protecting the lives and property of UT students, faculty and staff at institutions and facilities across the state. 
Just one year after its golden anniversary, the UT System Police is celebrating another milestone: On Friday, May 25, the UT System Police Academy graduated its 100th class of police cadets.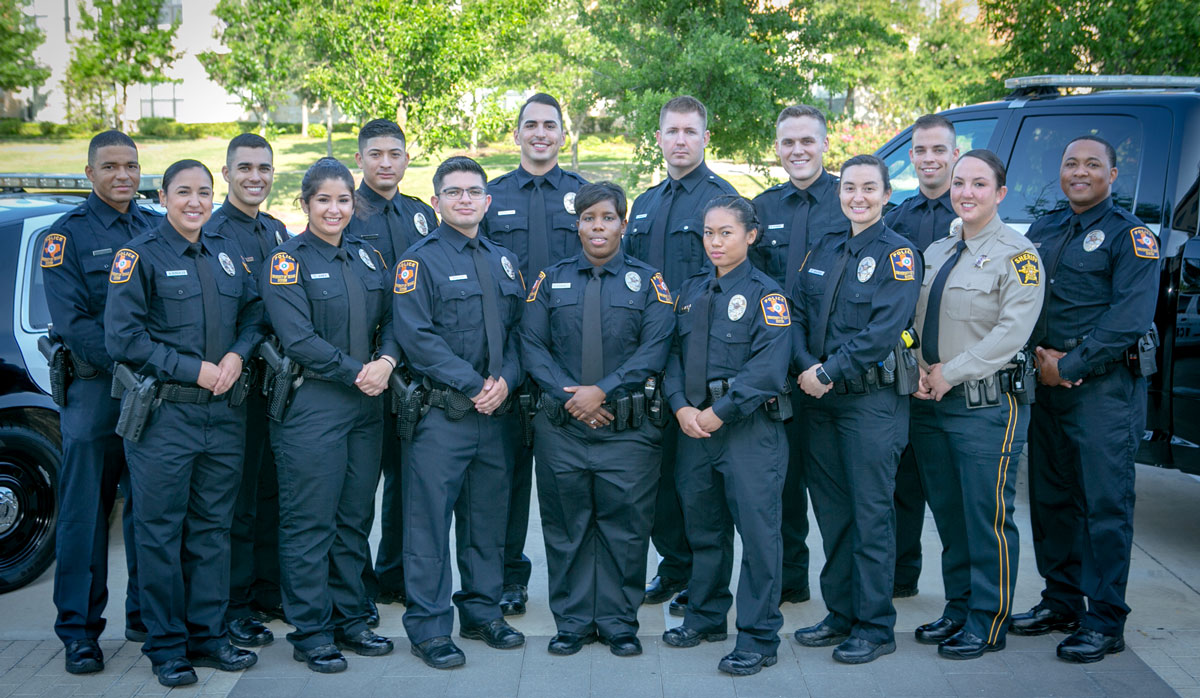 UT System Police was created in 1967, after the Texas Legislature enacted a law allowing universities to train and commission peace officers, following the UT Austin Tower shooting in 1966. The UT System Police Academy held its first class a year later.
Since then, more than 2,000 cadets have graduated from the UT System Police Academy, and today, UT System Police is the third largest state law enforcement agency in Texas and is larger than 90 percent of the law enforcement agencies in the United States. Altogether, UT System Police has 620 peace officers and 922 civilian staff members charged with serving and protecting more than 300,000 students, faculty and staff. 
The 100th class graduated 15 new peace officers, including six women. Of those, 12 are UT System Police and three are from other area law enforcement agencies. All cadets must pass a state licensing exam for peace officers, and this is the 15th consecutive UT System Police class to have a 100 percent passing rate on the first try.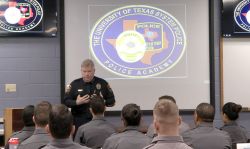 Director of Police Michael Heidingsfield graduated from the 21st class of the UT System Police Academy and began his law enforcement career at UT Arlington. He then spent more than 40 years leading other law enforcement agencies, serving as a colonel in the Air Force Reserve and in national security positions, including at the Pentagon and as an advisor for the U.S. Department of State, before returning in 2011 to lead the Office of the Director of the Police (ODOP).
"The depth and breadth of our mission is unique compared to other law enforcement agencies," Heidingsfield said. "Our services are tailored to meet the needs of very different communities from the world's largest medical complex – the Texas Medical Center – to Brownsville where the international border goes right through campus." 
The expanded mission is reflected in the training provided at the UT System Police Academy. The first basic peace officer course offered decades ago was 160 hours, compared to 854 hours today—which is about 200 hours more than the Texas Commission of Law Enforcement requires. 
In addition to basic training, the UT System Police Academy offers accelerated in-service training courses for experienced police officers. The ARREST (Advanced Rapid Response Emergency Scenario Training) program was developed by Heidingsfield and David Ferrero, ODOP chief of staff, to provide hands-on practice and simulated scenarios to give officers de-escalation skills as well as use-of-force training. The UT System Police also created and provides training on a science-based, victim-centered "blueprint" for responding to sexual assault cases.
"If you look at the institutions like UT Austin, and the overall activities, the campus police departments are functioning at the very same level as what the Austin Police Department is doing because they are faced with the same activity," Ferrero said. 
"Certainty there are fears that exist based in today's world about encountering violence," Heidingsfield added. "That's a workplace violent event or an active shooter event that we unfortunately see too often. Nobody should be concerned about our preparation for that. We train relentlessly for it. We are prepared to encounter the threat immediately."
UT System police have primary law enforcement authority in the 68 counties where the University of Texas has real property, and general law enforcement authority in all other Texas counties. Officers are employed by the institution at which they are assigned, and the 13 police chiefs (UTHealth and UT MD Anderson in Houston operate as a single department) have the day-to-day responsibilities for their departments. But all 13 departments make up one law enforcement agency.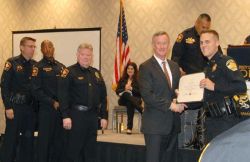 That unified approach is especially valuable when additional support is needed in specific communities, such as the mobilization of 50 officers statewide to respond to campuses impacted by Hurricane Harvey. UT System Police sent armored vehicles to the flooded areas to transport medical personnel, medications and supplies through the high water. And in 2016, 35 UT System police officers from around the state were deployed to UT Austin over an eight-week period to help allay fears after student Haruka Weiser was killed. 
"The University of Texas System Police is obviously very professional and extremely capable, but they are very compassionate to the needs of our students," said Robert Emery, vice president of safety, health, environment and risk management at UTHealth. "They are crucial to the safety of our campuses and what is unique about UT Police is that they also have a dedicated security component that includes guards, access controls and other aspects of the entire security realm." 
Each year, the UT System Police responds to thousands of calls for service that include everything from assisting with locked doors or providing a safe escort after dark, to responding to medical calls or welfare checks, to investigating all kinds of possible criminal offenses. Of the more than 3,000 arrests that are made each year by UT System Police officers, the vast majority—82 percent—are of people not affiliated with UT institutions. Their training and quick actions also saved the lives of nine people last year.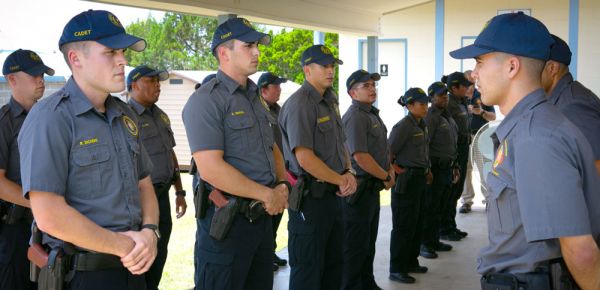 "Our motto is 'vital, visible and vigilant'," Heidingsfield said. "We take that very seriously. We believe that we are a vital part of each of the campus communities because if the students aren't safe, the educational process can't go forward. We believe in visibility because it in itself is a deterrent to crime, and we believe we have an obligation to be vigilant, which is to be looking out for those who will not look out for themselves or who may be victimized."
About The University of Texas System
Educating students, providing care for patients, conducting groundbreaking basic, applied and clinical research, and serving the needs of Texans and the nation for more than 130 years, The University of Texas System is one of the largest public university systems in the United States. With 14 institutions and a projected enrollment of more than 234,000 students, the UT System confers more than one-third of the state's undergraduate degrees, educates approximately two-thirds of the state's health care professionals annually and accounts for almost 70 percent of all research funds awarded to public institutions in Texas. The UT System's operating budget for FY 2018 is $18.3 billion, funded in part by $3.6 billion in sponsored programs from federal, state, local and private sources. With more than 20,000 faculty – including Nobel laureates and members of the National Academies – and nearly 80,000 health care professionals, researchers, student advisors and support staff, the UT System is one of the largest employers in the state.
Broken/Missing
This block is broken or missing. You may be missing content or you might need to enable the original module.