Main page content
UT System Board of Regents names Diana Natalicio President Emerita of UT El Paso
The UT System Board of Regents unanimously approved a recommendation by Chancellor James B. Milliken to appoint Diana S. Natalicio as President Emerita of the University of Texas at El Paso.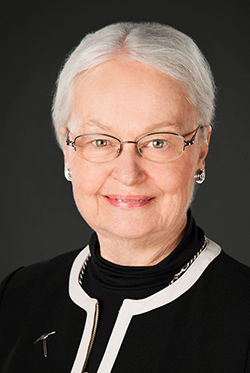 Natalicio served as president of UTEP for 31 years before her retirement as its leader, effective Thursday. Regents recognized Natalicio for her distinguished service and leadership before conferring the honorary title.
After the vote, Board of Regents Chairman Kevin P. Eltife said, "President Natalicio has led UT El Paso to national prominence while ensuring accessibility and affordability for all students. She has always been driven by her uncompromising belief that everyone who desires a college education should have one. Among her many extraordinary accomplishments, that is one that will be most treasured and appreciated. The board's action today conveys our respect and admiration for a most extraordinary UT leader."
"Under Dr. Diana Natalicio's leadership, UT El Paso has become known everywhere as a leading engine of social and economic mobility, changing the lives of graduates and positively impacting families, communities and Texas," Milliken added. "We are all deeply grateful for President Natalicio's tireless work to improve access and opportunity and to dramatically increase the impact of the university in the region. She has long been recognized—with good reason—as a transformational national leader in higher education."  
Natalicio joined the UT El Paso faculty in 1971 as an assistant professor, becoming a professor of linguistics and then serving in various leadership positions before being named UTEP's president in 1988. During her tenure as president, enrollment increased by more than two-thirds, with most students reflecting the demographics of the surrounding Paso del Norte region. She was a steadfast advocate for her students, many of whom were first in their families to attend college, developing initiatives to support their success.
At the same time, Natalicio pursued excellence in academics and research. Under her leadership, annual research expenditures grew from $6 million to nearly $95 million per year, and doctoral programs increased from one to 22. UTEP was designated a Carnegie R1 university this year, one of just four in the UT System.
Natalicio's many honors include being named one of Fortune magazine's Top 50 World Leaders in 2017 and one of TIME's 100 most influential people in the world in 2016.
About The University of Texas System
For more than 130 years, The University of Texas System has been committed to improving the lives of Texans and people all over the world through education, research and health care. With 14 institutions, an enrollment of nearly 240,000 students and an operating budget of $19.5 billion (FY 2019), the UT System is one of the largest public university systems in the United States. UT institutions produce more than 60,000 graduates annually and award more than one-third of the state's undergraduate degrees and more than half of its health professional degrees. Collectively, UT-owned and affiliated hospitals and clinics accounted for more than 8.2 million outpatient visits and 1.6 million hospital days last year. Across UT institutions, research and development expenditures total $2.9 billion – the second highest among U.S. public higher education systems – and the UT System is regularly ranked among the top 10 most innovative universities in the world. The UT System also is one of the largest employers in Texas, with more than 21,000 faculty – including Nobel laureates and members of the National Academies – and more than 83,000 health care professionals, researchers and support staff.